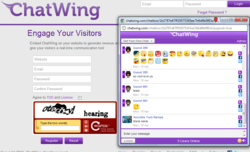 Austin, TX (PRWEB) May 03, 2012
The Earthship movement is now gaining ground in the cyberspace, as proven by the hundreds of blogs and websites dedicated for it. Some environmentalists believe that Earthship is the first major way in going green. In the Chatwing chat box, people have started talking about the Earthship project. Chatwing's developers have noted that people have varying opinions about Earthship.
Earthship aficionados have used the Chatwing widget because it is straightforward and compatible to blogs and websites that allow HTML coding. Adding to that, Chatwing has a Facebook website chat integration feature that truly expands a user's social horizon. The Chatwing developers have observed that Earthship fans usually share their experiences about collecting simple trash and turning them into recyclable materials. Most of them have even shared useful tips and designs on how to construct an Earthship-inspired home.
Earthship bloggers have also benefited a lot from Chatwing. Because of the shout box, their blogs now have double rate of activity. This increased the rate of their online presence in the online community. In turn, these bloggers had better credibility, attracting more visitors who were really concerned about going green. The guests and visitors can also use avatar displays and emoticons to spice up any conversation.
One of the best things that have contributed to Chatwing's stable ranking is its ease of access. Bloggers can now install the Chatwing chatrooms in just simple steps. Adding to that, bloggers can customize the widget so that it will fit the theme of their blogs more. Once the customization phase is complete, Chatwing can now generate the HTML code for embedding. Chatwing will go live in just seconds.
Bloggers who used the Chatwing widget have seen great improvements in the activity of their blogs. This happened in just days after installation of the Chatwing widget. Users who want to know more about Chatwing can visit its Facebook page.
About Chatwing.com
Chatwing.com is a free shout box for all web pages or blogs. It also lets anyone create free chatrooms on any website or blog. The Chatwing.com website offers users the ability to signup and create a customizable live chat box instantly with few details. Users have the ability to select the size, dimensions, and colors of the shout box. The ability to live chat with Facebook, Twitter or guest avatars is a unique feature which includes social sharing features in real-time. Chatwing is free chatroom software available to any user.