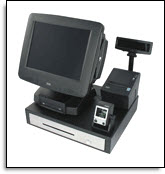 Expand your customer experience with new technology
Sarasota, FL (PRWEB) May 05, 2012
WestShore Processing, a supplier in Florida of industry leading POS hardware, is offering a new tech lover's tableside dream. All hospitality systems from WestShore Processing will have the ability to take tableside orders and enter them directly into the system.
Business owners can look forward to lower returned orders and complaints about inaccurately placed orders, which will bulk up their bottom line. Orders are entered through the iPad by a server right at the table. The same program that runs on the main and stationary POS hardware will also run on the iPad system so there will be less training and confusion for servers. The efficiency of having orders delivered directly to the kitchen and bar will also be seen in multiple areas of the business:
Expanded customer experience.
Lowered number of order mistakes.
Quicker turnaround time for servers and customers.
No need to hand write orders.
WestShore Processing CEO Paul Dion looks forward to diners experiences, "The ability to have the server take orders at the table will not only impress current customers but will also make for a fun and interesting dining experience for customers that have yet to experience this technology. We are proud to bring this product to our restaurant owners and help eliminate the redundancy and food waste cost that can add up for them. Current users have been excited about the results they are seeing as well as the lessened time and mistakes that happen between the server and kitchen or bar."
The hospitality software that has integrated into restaurants seamlessly is offering this technology with their free equipment offer. The free equipment program will cover almost every piece of equipment that owners will need; however, the iPads will need to be acquired by the owner. There are several other features that this POS hardware has and have been time tested with this software and are user favorites, such as; the ability to transfer tickets: Servers can transfer tickets to other servers and separating and joining customer's tickets is very simple.
More information about this program and features of our systems can be found at http://www.poshardware1.com/