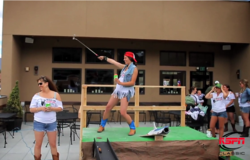 Sun Valley, ID (PRWEB) May 04, 2012
The Ketchum Wide Open rears its head again this May 19 in Sun Valley, Idaho bringing out the best in put-put golf and golfers to the bars and streets of Ketchum. Players will vie for the honors of best score, worst score, and best sartorial expression of ridiculousness (in other words prizes for best costumes) in a tournament which has garnered much attention from the golfing elite. To watch last year's coverage of the event on KSPN Classic click here
Registration opens at 11:00am in Ketchum Town Square with teams of four players costing $20. Entrants will then have from 1:00pm to 6:00pm to complete the glorious 9 hole course and return their scorecards the for awards.
"This event is a must in every golfer's spring build up. The course is incredibly creative and challenging and sure to elevate everyone's game to the next level just in time for summer," said course pro Thatcher Marstad.
All one needs is a putter, a good costume and the spirit of competition to make their mark in this once in a lifetime (if you don't survive the 2012 edition) event. Local bars create elaborate and often times interactive holes which put any mini-golf course on earth to shame.
For more information go to: http://www.facebook.com/profile.php?id=100003774996544&sk=wall