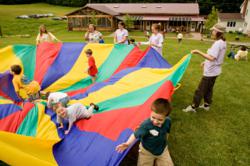 The first time that people visit the site is always kind of magical. Their first question is, 'when can I come back?'
Starksboro, VT (PRWEB) May 05, 2012
Common Ground Center, a non-profit center that hosts family camps, retreats, and weddings in Starksboro, Vermont, has seen efforts to develop mutually beneficial relationships with local schools and youth organizations pay off in recent months.
More and more youth groups have found the recreation facilities and 700 acres of wilderness at Common Ground Center ideal for field days, community events, and overnight retreats. The rural setting provides opportunities for young people to escape from their daily routines and just be themselves and have fun, whether it be launching boats in the stream, playing tennis or basketball, enjoying the homemade playground, swimming in the two-acre pond, or hiking in the woods. Their adult leaders appreciate the safe environment that the Center provides. And Common Ground Center is always thrilled to host youth groups, even if it means working within modest budgets.
"The first time that people visit the site is always kind of magical. Their first question is, 'when can I come back?'" says Jim Mendell, one of Common Ground Center's co-founders. The Center has plenty of options for people to "come back," including their family camp programs, renting the site for a retreat or family reunion, or attending a volunteer day.
The schools and youth organizations that Common Ground Center has recently made plans to host are plentiful. Robinson Elementary School in Starksboro and The Schoolhouse in South Burlington are both looking forward to field days at Common Ground Center. Addison County Teens, a teen center based in Middlebury, held a weekend youth retreat in April, while the Addison County Prevention Partnership, a drug abuse educational organization, is planning a teen retreat in May. The Willowell Foundation, a local non-profit that facilitates outdoor education programs, plans to launch an outdoor preschool program on the site beginning in the fall.
Staff members from the Burlington Parks & Recreation department recently toured Common Ground Center and are very excited to include Common Ground Center in their year-round nature exploration programs for youth & families. Staff from Addison County's Mary Johnson Children's Center are also interested in exploring the possibility of overnight trips for the school kids in their programs in Starksboro, Bristol, New Haven, Vergennes, and Middlebury.
As a result of hosting these schools and youth organizations, Common Ground Center has seen a boost in families from the greater Burlington Area and Addison County attending their week-long family camp programs. Local families often comment that the benefit of vacationing close to home is that they don't have to cook or get in the car for a week, which means more time to relax and spend time together. They are also thrilled to be enjoying time on a site that is 100% solar powered and models sustainable building and living practices.
Common Ground Center's mission to "strengthen diverse families and communities" can take many forms, but hosting youth groups has emerged as a need in the Vermont community that the Center is happy to fill. The Center can be reached at 802.453.2592 or by email at info(at)cgcvt(dot)org.