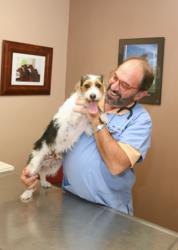 Warm winters are great for fleas and bad for pets
Jacksonville, FL (PRWEB) May 21, 2012
Fleas are a big problem for pets in Jacksonville this spring. Jacksonville veterinarians have found that more pets than ever before are without adequate flea control. Whether one calls it climate change or global warming, no one disputes the fact that last winter was non-existent in Jacksonville. In fact, it was one of the warmest winters on record. Fleas normally suffer in the cold and dry months of winter. Not so this year. The mild conditions have made it possible for fleas to thrive throughout winter.
Jacksonville pet owners have repeatedly stated, "I have always use this topical flea control with success in years past. But, this year even when I apply it more frequently, the fleas don't quit." The Jacksonville veterinarians offer their pet patients more secure prevention with the "Flea Pill," Comfortis. Veterinarians have advanced flea treatment that provides around the clock protection and alleviates the scratching, irritation for pets while preventing flea outbreaks in their owner's home. Unfortunately, once a flea outbreak has occurred it is too late, this means there are thousands of eggs just waiting to hatch. With the new medications, a population of fleas in the household will not survive their next meal.
Warm winters are great for fleas and bad for pets. Jacksonville veterinarians have innovative solutions that not only prevent flea problem from ever happening, but that also keep pets safe and comfortable. Try the new oral prescription medications for flea prevention and eradication.
Focusing on the delivery of innovative medicine as well as ensuring a positive experience for both pets and their parents makes Oceanway Animal Clinic a leader in the Jacksonville community. Join over 10,000 local pet owners who call Oceanway Animal Clinic "My Veterinarian."