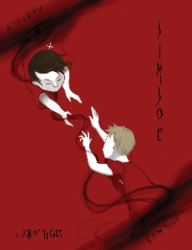 The striking illustrations add to the tension of the chilling tale.
Indianapolis, IN (PRWEB) May 15, 2012
Six-year-old Aspen has no idea that he's repeating history when he tells his father he has an imaginary friend named JimJoe. Arrow Brown was terrorized by an imaginary friend until he destroyed him – or so he thought – in this new graphic novel. This psychological thriller, set 20 years later when Arrow has grown to manhood, follows the pair as they prepare to fight JimJoe. It's only when the battle draws to a close that the family learns how their fate and JimJoe's are intertwined.
"JimJoe – Den of Thieves" relays a classic tale of good and evil, set against the backdrop of modern living. Although Arrow's own wife doesn't believe in JimJoe, a longtime priest knows the evil being for who he really is – a member of the den of thieves, damned by God and hunting young children to kill them and steal their souls. Armed with his new knowledge, Arrow and a doctor who believes his story work to save Aspen and vanquish JimJoe once and for all. The striking illustrations add to the tension of the chilling tale, allowing characters to show their emotions and putting a face on true evil.
Graphic novels inspire author William Marquis, who hails from White Rock, British Columbia, Canada. Marquis has compiled several fiction works in the last 10 years such as screenplays and graphic novels. Before turning to writing books and screenplays, Marquis was a businesses executive and entrepreneur. The business consultant has helped companies increase their profitability. Illustrator Emiko Sawanobori, a Los Angeles-based artist and animator, has worked on feature-length films and 2D television animation on such projects as "Electric City" and online worlds for ZhuZhu Pets and Beanie Babies.
----------
For additional information, please visit http://www.jimjoebook.com.
JimJoe – Den of Thieves
William Marquis
Dog Ear Publishing
ISBN: 978-1-4575-0932-2 140 pages $18.95 US
Available at Ingram, Amazon.com, Barnes & Noble and fine bookstores everywhere.
About Dog Ear Publishing, LLC
Dog Ear Publishing offers completely customized self-publishing services for independent authors. We provide cost-effective, fast, and highly profitable services to publish and distribute independently published books. Our book publishing and distribution services reach worldwide. Dog Ear authors retain all rights and complete creative control throughout the entire self-publishing process. Self-publishing services are available globally at http://www.dogearpublishing.net
and from our offices in Indianapolis.
Dog Ear Publishing – self-publishing that actually makes sense.