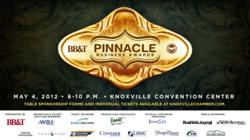 Knoxville, TN (PRWEB) May 04, 2012
The Knoxville Chamber recognized the best of the best in business at the eighth annual Pinnacle Awards gala held on May 4, 2012 at the Knoxville Convention Center. The event was presented by BB&T and honored recipients in nine categories. The categories recognize the range of businesses that make up the thriving Knoxville economy, and honor contributions to business enterprise and the greater community.
The winners are as follows:
Innovator Award, sponsored by Pershing Yoakley & Associates – Given to a business that has developed a new technology, innovative product or service, or applied a business system or service in an innovative way. Finalists were Agile Technologies, Aqua-Chem, and Cadre5.
The winner is Aqua-Chem. From developing portable water purification systems that delivered water to American forces during World War II to cutting edge sustainable technology that will enable industrial plants to recycle up to 90 percent of wastewater, Aqua-Chem has spent 83 years establishing itself as a global leader in water technologies. Initially based in Milwaukee, Wisconsin, the company relocated to Knoxville in 1989 to take advantage of a skilled, flexible workforce in an expanding area of the country with excellent transportation access.
Small Business Excellence Award, presented by BB&T – Honors a small business with 50 or fewer employees that has consistently grown its workforce and revenue and overcome obstacles including access to capital, operational efficiency, control of expenses, customer loyalty, and distribution. The finalists were All Occasions Party Rentals, M Force Staffing, and Management Solutions, LLC.
The winner in this category is All Occasions Party Rentals. With the goal of providing clients with a "unique event experience – every event, every time," the company has established itself as the area's premier party rental company. Its diverse inventory enables the company to accommodate everything from high-end parties, weddings, and large festivals, to small gatherings at someone's house. The company experienced its most profitable year in 2011, and in March 2012 launched a new sister-company, All Conference & Expo Services, and secured the contract with the Knoxville Convention Center to operate as the preferred contractor for tradeshow services.
Impact Award, sponsored by Aqua-Chem – Presented to a business that displays a commitment to making East Tennessee a better place to live through the development and support of a community or program. This year's finalists were Grace Construction, Green Mountain Coffee Roasters, and PetSafe.
Green Mountain Coffee Roasters was presented the award. In three-and-a-half short years, the company and its employees have made monumental gifts of money and time to the Knoxville area. The Brewing a Better World grant program has contributed $350,000 to local organizations and plans to infuse another $830,000 during 2012. Through its CAFE Program, which stands for Community Action for Employees, Green Mountain encourages employees to volunteer at a non-profit or school by providing 52 paid hours each year for such activities. This program has generated 21,000 volunteer hours by employees in the Knoxville area.
Minority-Owned Business Excellence Award, sponsored by Covenant Health – Presented to a minority business that has produced outstanding business results and growth and overcome the obstacles of race or sex. Finalists were Always Moore Janitorial Service, ComputerWorks, and Manny's Catering.
Always Moore Janitorial won this year's award. The company is a commercial and residential janitorial service located in Oak Ridge that provides methodical, detailed, and professional cleaning services. Always Moore was started in 2008 by Delnise Moore, a 2012 graduate of Innovation Valley's mentor/protégé program. The company's revenue tripled in the first two years of operation, doubled in the third year, and tripled again this past year.
Woman-Owned Business Excellence Award, sponsored by LBMC – Given to an outstanding East Tennessee woman-owned company that is independently owned, operated, and controlled by a female. The winner is selected based on a demonstrated ability to compete in a non-diverse field. The finalists were Ackermann PR, Elizabeth Eason Architecture, LLC, and The Trust Company.
The winner is The Trust Company. Founded in 1987 with just three employees The Trust Company is the oldest independent trust company headquartered in Tennessee. Now, as it celebrates its 25th anniversary, the company has 54 employees and manages assets of approximately 1.6 billion dollars. The Greater Knoxville Business Journal's Book of Lists ranks it as the largest woman-owned financial services company in the area. It offers its clients a full-range of services that include investment management; personal trust; estate administration; retirement plan services; IRA's; and financial, estate and generational planning.
Business Excellence Awards – Awarded to a company headquartered in East Tennessee or a company with significant presence in East Tennessee that has shown remarkable profitability, growth, and stability. Nominees must be recognized regionally, nationally, and/or internationally in their respective business sector and should have made significant investments in facilities and employees. Two awards are presented, one company with 51-150 employees company-wide and one company with 151+ employees
Finalists for the Mid-Sized Business Excellence Award were Consolidated Products, Inc., Power Systems, Inc., and Strata-G, LLC. The 2012 winner is Consolidated Products. As technologies have evolved over the years, so has the company. It offers customers flexographic labels, and a full spectrum of services and solutions including dome labels, digital printing, laser die cutting, thermal transfer, and Radio Frequency Identification just to name a few. Its IDentiTRAK Technologies division specializes in providing turnkey RFID and warehouse management solutions. The company is an industry leader in lean manufacturing and provides products and services worldwide.
The finalists for the Large Business Excellence Award, which was presented by Cherokee Distributing, included 21st Mortgage Corporation, Cellular Sales, and Jewelry Television. The winner is Cellular Sales. Founded in 1993 by University of Tennessee graduates Dane and Meg Scism, the company is the nation's largest Verizon premium wireless retailer. During each of the last four years the company has been named one of the nation's fastest growing, privately owned retailers by Inc. magazine. A three-year growth rate of 193 percent has Cellular Sales ranked on the Inc. 5000 as the 75th fastest growing retailer. The growth is only going to continue as the company plans to open 150 stores in 2012, increasing its total number to well over 600 stores nationally.
Young Entrepreneur Award, sponsored by UT-Battelle – Presented to a professional forty or younger who is on track to be one of tomorrow's top business and community leaders. 2012 finalists for the award were Parker Frost, founder of Gigmark, Chris McAdoo, owner of Best Behavior Creative Club, and Jonathan Williams, founder of Accord Federal Services.
The winner is Parker Frost. Frost started the custom software solutions company that produces a patented Interactive Flash Drive technology in 2008. The IFD technology provides a cost-effective, cutting-edge marketing tool for companies with its three-pronged approach. It provides a branded physical media, it offers branded interactive software, and it includes a content management system and user analytics allowing clients to update and edit their message on an ongoing basis. Gigmark's client list includes such established nationally brands as Ford, NASCAR, and General Motors.
James A. Haslam, II Leadership Award, sponsored by Prestige Cleaners – Awarded to a longtime business leader who exhibits strength in character, resolve, commitment to our community, and exemplary success in business.
Larry Martin is the 2012 honoree. He spent 36 years with First Tennessee starting his career as a branch manager in Memphis and retired in 2006 as the Chief Operating Officer for First Tennessee Financial Services where he oversaw all the Tennessee regional bank markets; merchant services processing; Hickory Venture Capital; Synaxis Group; and the commercial, corporate, and middle market divisions of the bank. His career brought him to Knoxville in 1987 as the regional president of the bank and he never left. His community service included leadership roles on the boards of the Covenant Health System, Family Investment Foundation, East Tennessee Foundation, Partnership for Neighborhood Improvement, the Historic Tennessee Theatre Foundation, the Boy Scouts, Leadership Knoxville, and the Knoxville Chamber. Upon retiring, he joined Mayor Bill Haslam's administration as the senior director of finance and deputy to the Mayor, a role he maintained after Mayor Haslam became Governor Haslam, during the interim tenure of Mayor Daniel Brown. This past November, Mayor Madeline Rogero asked him to lead the transition team for her administration.
The Pinnacle Business Awards is one of Knoxville's marquee annual events and over 550 businesspeople attend the annual celebration sponsored by BB&T. This year, attendees were treated to an exciting evening marked by a reception and silent auction, sponsored by WSI Oak Ridge, followed by dinner and awards presentation emceed by Robin Wilhoit of WBIR-TV.
Additional sponsors included EnergySolutions, the Greater Knoxville Business Journal, Bluegill Creative, Bandit Lites and Sound Ventures. Media sponsors included the Greater Knoxville Business Journal and Knoxville News Sentinel.
About the Knoxville Chamber
The Knoxville Chamber is the region's leading business organization with more than 2,000 members that employ more than 276,000 individuals. More than 80 percent of Chamber members are small businesses with 50 or fewer employees. It fulfills its mission of Driving Regional Economic Prosperity by recruiting new businesses and supporting existing companies, and serves as the lead economic development agency in the Knoxville-Oak Ridge Innovation Valley. The organization has an active government advocacy program and supports pro-business policies. Members receive marketing, networking, professional development benefits, and many other cost-effective services. For more information visit http://www.knoxvillechamber.com.