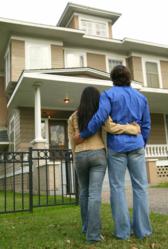 Fort Lauderdale, Fla. (PRWEB) May 04, 2012
Spring signals the traditional start of home buying season. The National Association of Realtors (NAR) recently released its report on pending home sales for March 2012 and analysts report that contracts rose 4.1 percent for the month – a 23 month high. NAR chief economist Lawrence Yun states, "Rising sales are bringing down inventory and creating much more balanced conditions around the country, which mean home prices will be rising in more areas as the year progresses." The REALTORS® Confidence Index for March 2012 reports that confidence and price expectations are up, rising rental rates have favorable implications for the residential market, and time a home spends on the market continues to decrease. These are very encouraging signs that the market is improving at last, and might prompt families to put their home up for sale. HMS National, the home warranty leader for home sellers and buyers, has some simple steps to get a home "buyer-ready!"
1. Evaluate your 'curb appeal'
The phrase curb appeal refers to a buyer's first impression of a home's exterior. The easiest way to freshen up the look of the whole house is a new coat of paint. Stick to neutral color, such as white or beige, which suits a variety of tastes. Walkways are eye-catchers as the first point of entry, so be sure to fix or replace cracked stones or bricks. A good landscaper is often worth the investment, as strategically-placed bushes and flowering plants can dramatically transform a bland front entrance or driveway. Don't forget to evaluate the appearance of the roof. Sometimes a pressure wash is all it takes to spruce it up.
2. What stays and what goes?
Homeowners often don't even "see" the clutter in their home, but prospective buyers certainly will. Scan rooms with an eye for what furniture can be removed. Larger pieces stay, of course, but too many accent pieces like ottomans, footstools and floor plants can make the room look smaller, and might be better moved to storage. Buyers will also evaluate the condition of your appliances, so stovetops should be clear and clean, and those refrigerator magnets and the papers they hold should be stashed away. Pay attention to storage areas, such as the basement and closets — cleared spaces look bigger. After the clutter is gone, it's important to do a thorough house cleaning.
3. Neutralize the décor
Buyers will visualize where to place their own belongings in the home. If the seller's taste differs greatly from their own, they might not be able to 'see' themselves living there. You can neutralize your personal style with beige or white slipcovers over decorative upholstery, and they can be quite inexpensive at discount retailers. They cover wear and tear beautifully, too. Remove family photos and replace with something that has wider appeal.
4. Evaluate for new paint?
A fresh coat of paint makes a house look and smell newer. Remember to use neutral colors, such as beige or off-white. Don't forget the basement, garage and closets.
5. Hit the floors
Floors can dominate the appearance of a room. If yours are beaten up, look into some of the low-cost, attractive options, such as laminates, carpet squares and remnants. Rugs that are stained or ripped are a major turn off for buyers. Old rugs can sometimes have a musty odor, too. Look at everything in the harsh light of day and think about what is going to strike the eye — and nose — of a potential buyer. Consider, too, that some buyers move things around to look for damage.
6. Check your appliances and home systems
Sellers should survey each area of their home, including basement, garage, outdoor areas and closets for needed repairs to items like noisy ceiling fans, squeaky doors or non-functioning appliances. Even little things, such as a slightly noisy refrigerator, can be used by potential buyers as an excuse to negotiate the asking price. Now is the time to thoroughly evaluate all home systems, too, including plumbing, heating, A/C, cable/WiFi and electrical and get repair estimates. HMS also recommends that sellers should list their home with a home warranty to make it even more appealing to buyers. A home warranty provides valuable protection against unforeseen breakdowns, and gives both buyers and sellers peace of mind. Be sure to ask your Realtor about your options. The cost of making unexpected home repairs or replacing a major system or appliance can place a strain on the family budget. According to a recent survey by the National Foundation for Credit Counseling, a majority, or 64%, of Americans don't have enough cash on hand to handle a $1,000 emergency expense.
7. Stage your home for success
The word "staging" describes how sellers add visual flair to their home to make it more appealing. There are professionals who do this, but there are also some simple ways to do it yourself. Enhance neutral spaces by adding niceties one might find in an upscale hotel, such as baskets of prettily-folded linens and soaps on bathroom counters, or bowls of fresh fruit on dining tables. New bedspreads and curtains also make a big difference. The kitchen is the room buyers will focus on most, so bake some grocery store sugar cookies (sprinkled with cinnamon!) prior to an open house. The aroma will cause buyers to associate feelings of warmth with the home.
Yes, preparing a home for sale can be a lot of work. Craft a comprehensive game plan to win a sale.
About HMS National
HMS National, the home warranty leader for home sellers and buyers, has been working for millions of homeowners and tens-of-thousands of real estate professionals for over 30 years to make the process of buying, owning and selling real estate safer—and more enjoyable, efficient and profitable. As a pioneer and innovator in the home warranty industry, HMS National has consistently been a valuable resource for real estate professionals by providing the HMS Home Warranty, a wide range of professional support tools, marketing training and products, and leading errors and omissions insurance. Headquartered in Fort Lauderdale, HMS National is a member of the Cross Country Group, one of the largest privately-held providers of customer service programs in the United States. For more information, visit: http://www.hmsnational.com.
Disclosure
The information in this article is intended to provide guidance on the proper maintenance and care of systems and appliances in the home. Not all of the topics mentioned are covered by our home warranty or maintenance plans. Please review your home warranty contract carefully to understand your coverage.