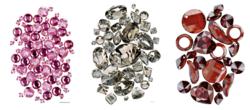 Clifton, N.J. (PRWEB) May 04, 2012
Today, jewelry, accessories and decoration are powerful forms of self expression. In response to an increasing quest for individuality, SWAROVSKI ELEMENTS, the premium brand for the finest crystal elements manufactured by Swarovski, has created an initiative that allows crystal devotees to engage in their own personal crystal style. Whether the desire is to create jewelry pieces, home and lifestyle accessories, crystallized stationery and packaging or any other project that needs a touch of pure luxury, CREATE YOUR STYLE with SWAROVSKI ELEMENTS, a Swarovski brand exclusively licensed to EKSuccess Brands, continues to deliver creative inspiration and guidance with new colors and innovations.
CREATE YOUR STYLE with SWAROVSKI ELEMENTS has released eight new colors for its Hotfix application. Chosen by Swarovski's own in-house trend and innovations experts, the new hues include Silver Night, Bronze Shade, Indian Pink and Greige.
As recently seen on CraftGawker.com, the innovative Hotfix application can be easily ironed on or applied with the Hotfix tool to add a sparkling touch of luxury to everything from clothing and accessories, to home décor and paper projects.
The flat back of the crystal has a layer of adhesive that is heat-activated to bond to fabric, such as wool, cotton, linen, silk, polyester and denim. It is wash-resistant and comes in an array of sizes and colors to match your own creative vision.
CREATE YOUR STYLE with SWAROVSKI ELEMENTS, launched in 2004, focuses on the endless possibilities where an amazing range of shapes, sizes, colors and effects in Beads, Pendants, Crystal Pearls, Flat Backs and further elements can be threaded, sewn or glued, mixed and mingled or combined with the materials as varied as fabric, leather, felt, wood and paper.
The new range of Hotfix is available at Michaels and retails for $4.99. Please contact Misty Huber at mhuber (at) eksuccessbrands (dot) com for more information, samples, images and interview opportunities.
About EKSuccess Brands
Established in 1978, EKSuccess Brands is one of the country's leading creative consumer products companies. Its diversified portfolio includes more than 10,000 inspirational and creative products covering paper crafting, needle crafting, stamping, jewelry making, kids' crafts, paint by numbers and more. Popular brands include K&Company®, Inkadinkado®, Dimensions®, Jolee's Boutique®, Sticko®, Perler™, Martha Stewart Crafts™, and American Girl Crafts®. EKSuccess Brands is a division of Wilton Brands Inc. For more details visit http://www.eksuccessbrands.com. Dream. Make. Celebrate™.
About Swarovski
In 1895, Daniel Swarovski, a Bohemian inventor and visionary, moved to the village of Wattens, Tyrol in Austria, with his newly-invented machine for cutting and polishing crystal jewelry stones. From this beginning that revolutionised the fashion world, Swarovski has grown to be the world's leading producer of precision-cut crystal for fashion, jewelry and more recently lighting, architecture and interiors. Today, the Swarovski group, still family-owned and run by 4th and 5th generation family members, has a global reach with some 24,800 employees, a presence in over 120 countries and a turnover in 2009 of 2.25 billion Euros. Swarovski comprises two major businesses, one producing and selling loose elements to the industry and the other creating design-driven finished products. Swarovski crystals have become an essential ingredient of international design. Since 1965 the company has also catered to the fine jewelry industry with precision-cut genuine and created gemstones. Showing the creativity that lies at the heart of the company, Swarovski's own brand lines of accessories, jewelry and home décor items are sold through more than 1,800 retail outlets worldwide. The Swarovski Crystal Society has close to 325,000 members across the world, keen collectors of the celebrated crystal figurines. And in Wattens, Swarovski Kristallwelten, the multi-media crystal museum, was opened in 1995 as a celebration of Swarovski's universe of innovation and inspiration. The Swarovski group also includes Tyrolit®, manufacturing grinding tools, Swareflex, for road safety reflectors and Swarovski Optik, producing precision optical instruments.