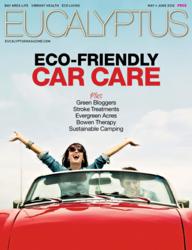 am excited to bring you the latest information and trends in health and sustainability in the Bay Area
Los Gatos, CA (PRWEB) May 03, 2012
Eucalyptus magazine, the only lifestyle magazine that focuses exclusively on health, wellness and green living in the San Francisco Bay Area, just released its May/June 2012 issue. Eucalyptus is available locally from over 350 Bay Area merchants and nationwide online.
Featured stories in this issue cover current therapies and emerging trends in stroke treatments, eco-friendly car care, local farms and green tips for personal care. The issue also highlights six green bloggers whose views on green living, conservation and healthy eating make them stand out from the rest.
"I am excited to bring you the latest information and trends in health and sustainability in the Bay Area," said Michaela Marek, publisher of Eucalyptus magazine. "Enjoy the issue!"
The feature story about eco-friendly car care profiles several auto repair shops from around the Bay Area that are making a difference and creating more sustainable practices under the guidance of the Bay Area Green Business Program. Read "Eco-Car Care" to find out more about the actions these auto maintenance shop owners are taking to prevent pollution, minimize waste and reduce their carbon footprints.
Another story covers the current and emerging treatments being used for stroke patients, including tPA (tissue plasminogen activator), the Merci Retriever designed by Concentric Medical in Mountain View, and rehabilitation. It mentions specific treatment facilities around the Bay Area that are utilizing these practices and outlines the treatments that should be used in certain situations following a stroke. Read "Stroke Treatments" to find out more.
In the "Green Bloggers" feature story, Eucalyptus highlights the top six bloggers that consist of activists, parents, farmers and foodies from around California. Topics like teaching kids about "farm to fork" from the owner of Pie Ranch in Pescadero and helping people understand sustainability in creative ways from two Stanford professors and their students make these bloggers stand out in the online world. Visit the Bay Area Life section to read "Green Bloggers" and see what else these writers cover.
The special Farmer Profile of this issue is a story about the owner of Evergreen Farms, who is taking a stand against a new law passed by the California Department of Food and Agriculture that is threatening the farmer's right to share raw milk produced by his goat herd. Read "Raw Rights" to find out what the farm owner and shareholders are doing to fight back.
Eco-friendly personal care is brought to light in this issue as well, which helps consumers "get smart" about beauty products and pampering practices for fingers, toes, teeth and body. Click on the Eco-Living tab and visit the Green Tips section to see what products made the "black list" and the hidden dangers found in many cosmetics.
For more information about the May/June 2012 issue of Eucalyptus, or for information about any of Eucalyptus magazine's products or services, call (408) 335-4983 or visit eucalyptusmagazine.com.
About Eucalyptus
Eucalyptus is the San Francisco Bay Area's resource for green and health-conscious lifestyles. Through the print publication, website and networking events, Eucalyptus shares knowledge and inspires readers to celebrate their health, support local businesses and surrounding communities, and protect the environment. The magazine is available at over 350 locations in the Bay Area and online at eucalyptusmagazine.com.