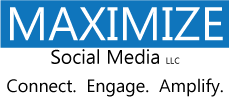 "Social networks are able to provide a strong signal to search engines of the quality and authority of a site," said Chris McLaughlin, CEO of Maximize Social Media LLC
Los Angeles, CA (PRWEB) May 03, 2012
Social media agency Maximize Social Media announced today its new program geared toward helping businesses with social media optimization. The company will provide consulting for businesses to develop strong social signals across multiple social media platforms. Such integration of social signals across Facebook, Twitter, Google+ and other platforms benefits brand awareness, customer engagement, and is likely to improve a company's SEO rank.
"Social networks are able to provide a strong signal to search engines of the quality and authority of a site. So not only does social media optimization help increase user interaction with a brand but it also is essential to maintaining and building your rank with SEO," said Chris McLaughlin, CEO of Maximize Social Media LLC.
McLaughlin noted that search engines are cracking down on unnatural links to sites and are taking steps to ensure sites have natural traffic. "Clearly improving social interaction for your business not only benefits your brand with more awareness but is very likely to enhance a company's position in the search engines," he said.
Craig Collins, Senior Vice President of Maximize, said that social media optimization is critical to the long term success of any social media campaign. "If you're building a strong Facebook presence but you're not linking back to your blog or getting pluses from Google+ you're missing out on significant viral growth and user engagement. We would encourage any business that's serious about its Internet marketing to look into the many benefits of social media optimization," he said.
Businesses interested in social media consulting for optimization are invited to contact Maximize for a no obligation consultation.
About Maximize Social Media LLC
Maximize Social Media (http://maximizesocialmedia.com) is a leading provider of social media management services for clients in over 40 different verticals. With offices in Florida and Los Angeles, Maximize provides social media consulting and Facebook advertising management for clients in English speaking countries such as the US, Canada, and Australia. The company also features social media management outsourcing for busy social media mangers looking for additional assistance on a white label basis.