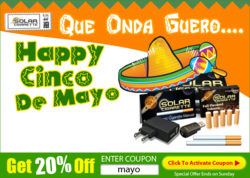 These vitamin packs are an innovative way to help smokers lose weight but also gives them the flexibility to instantly smoke anywhere they choose and avoid the public smoking bans
Hollywood, FL (PRWEB) May 04, 2012
Grab the sombreros and the cervezas because SolarCigarette.com is about to make history. For the first time in company history, the Solar Cigarette headquarters will be turned into an online party for all customers and their family to enjoy on this historic event. The owner himself is inviting all of his smokers who use the Solar Cigarette for not only a Cinco De Mayo online party but for some hefty savings as well.
What is the Solar Cigarette you might ask? Many smokers who use the Solar Cigarette are enjoying a life without being tied down to tobacco cigarettes. Without the use of the Solar Cigarette they would still be smoking those harsh cancer sticks and their health would continue to suffer for it. The Solar Cigarette is a smoking alternative which doesn't contain harsh chemicals, more importantly helps smokers lose weight with Solar Cigarette unique innovation.
"Smokers are looking for a healthier alternative that will keep them from gaining weight and also help them quit smoking without the use of nicotine patches, gums, and hypnosis. These Solar Cigarettes can help smokers achieve their goals of finally giving up cigarette smoking and start to enjoy a much healthier lifestyle, and lose weight in the process."
Read more at: webwire.com
A representative of SolarCigarette.com states that the Solar Cigarette electronic cigarette is unlike any other electronic cigarette out on the market today. Not only are the Solar Cigarette an alternative to smoking tobacco cigarettes, the Solar Cigarette uses Coenzyme Q10, also known as CoQ10 or Vitamin Q, is one of the most promising tools in the anti-aging arsenal. Research has proven that CoQ10 benefits include playing a role in the treatment and prevention of a host of age-related disorders.
Solar Cigarette is kicking off the Cinco De Mayo festivities by giving their customers a 20% off discount by using coupon code "MAYO" at checkout. This Cinco De Mayo coupon code will grant 20% off every item in the Solar Cigarette inventory whether it be starter kits, accessories, or refill cartridges. The 20% off coupon code is a limited time offer and will only be valid until Sunday, May 6th, 2012.
Learn More About The Solar Cigarette Cinco De Mayo Savings Event