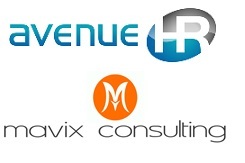 Toronto, Ontario (PRWEB) May 04, 2012
Avenue HR and Mavix Consulting announced today its Strategic Partnership to implement and support SAP HCM and SuccessFactors customers, in the US and in Canada. This announcement marks an important milestone in Avenue HR & Mavix Consulting interests to expand its existing services portfolio to include SuccessFactors and SAP HCM consulting services.
Avenue HR's President & Founder, Frederic Van Bellinghen, says "In addition to delivering our SAP HCM services business across the US & Canada, we are proud to be in a position today to help and support our existing and future customers in obtaining the same level of quality services for their SuccessFactors implementation and integration with their SAP HCM solution. Since the announcement of the acquisition of SuccessFactors by SAP, SAP HCM On-demand solutions are clearly gaining momentum and relevancy, and it makes sense for us to become partners with Mavix Consulting in order to properly support customers moving towards the Cloud."
Mavix Consulting President & Founder, Marcelo Mackinlay, says "We are pleased to be partnering with Avenue HR to provide both strategic and functional consulting services to the SAP HCM and SuccessFactors customer base. The SAP acquisition of SuccessFactors has created an exciting opportunity for SAP customers to leverage an innovative, cloud-based, comprehensive suite of Talent Management modules to complement their existing SAP functionality."
About Avenue HR: founded in 2009, Avenue HR is today one of the fastest growing SAP HCM consulting firms in North America delivering responsive, effective and quality centric SAP HCM implementation and support services across the US and Canada.
About Mavix Consulting: founded in 2006, partners with customers to support the alignment of Talent Management strategies, programs and technologies. Mavix resources have successfully completed over 400 Talent Management strategy and technology projects over the past 12 years.