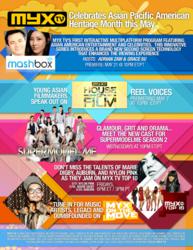 "While every day is Asian Pacific American day at the network where we celebrate the best in entertainment, this month will feature programming and events unlike any other."
Redwood City, CA (PRWEB) May 04, 2012
MYX TV, the only Asian American entertainment network in the United States, proudly celebrates Asian Pacific American Heritage Month with new shows and partnerships with community organizations around the country.
The network premieres MashBox, its first interactive series featuring the best in Asian American entertainment and celebrities. MashBox introduces an innovative second screen technology that allows multiplatform viewing unlike anything you have ever seen before. Stand by for more details on the free MashBox Live app! Co-produced by Teddy Zee Productions and MYX TV, the show is hosted by Grace Su and Adrian Zaw and will premiere on May 21 at 10pm.
Independent film block, House of Film is airing Reel Voices, eight short films shot by high school students that portray life experiences, aspirations, and struggles. These films were first presented by the San Diego Asian Film Foundation's Reel Voices program. Reel Voices premieres on May 7 at 10pm.
More on the air, SupermodelMe Season 2 airs "Meet the Models" episodes on Wednesdays at 10pm, introducing two new models every week from its all-new season until its premiere on June 6. MYX TV Top 10 will be featuring Marie Digby, Auburn, and Nylon Pink this month! Catch the show where your favorite stars countdown the hottest music videos.
This month, Comcast and Cox will be featuring MYX-Rated and Press Play on Video on Demand all month! Catch live performances by Erika David, Melissa Polinar, Legaci, Blush and many more. Check out "Asian Heritage/Music" on Cox FreeZone and Comcast Top Picks, as often as you want them.
"MYX TV is celebrating Asian Pacific American Heritage Month in a big way by introducing cutting edge technology with MashBox and recognizing the rising stars in Asian American Entertainment," said Joy Bovatsek, MYX TV Head of Programming.
MYX TV makes noise on the ground, partnering with community events put together by the Asian Pacific American organizations in the cities where you live. Enjoy the movies at the Newport Beach Film Festival in Orange County that spotlighted blockbusters from Asian Cinema. Check out the Macy's Asian Heritage Month Talent Showcase on May 5th at the Union Square store featuring Legaci, Thia Megia and Bailey Munoz. Washington, DC expects a huge festival turnout at Fiesta Asia on May 12th at Silver Spring and May 19th by the Capitol where food, booths, and entertainment take centerstage. San Francisco's landmark event returns with the 8th year of the Asian Heritage Street Celebration featuring hundreds of vendors, organizations and performers. For the first time ever, San Jose welcomes its Future Roots Festival that will be home all the top picks and special features of the community on May 26th.
"MYX TV is a proud partner to landmark events that we celebrate in May," said Miguel Santos, Associate General Manager of MYX TV. "While every day is Asian Pacific American day at the network where we celebrate the best in entertainment, this month will feature programming and events unlike any other."
For more details on special events and our shows, visit http://www.myx.tv
ABOUT MYX TV®:
MYX TV is the premier Asian American entertainment and lifestyle cable network in the United States. Dedicated to airing the best in entertainment, MYX TV's programming is a unique combination of original and syndicated shows, including magazine talk shows, interactive music video countdowns, independent film and Asian cinema, and animation, airing 24/7 in English. Broadcast in over 8 million households across the country it provides a platform for Asian Americans on mainstream television and is also represented on its official website by a community of bloggers from coast-to-coast. To find MYX TV in your area and for exclusive content online, visit http://www.myx.tv.