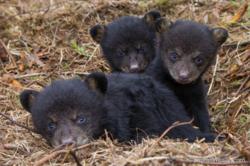 In my entire career this is the biggest opportunity we've had for a worldwide audience to learn directly from the bears.
Ely - MN (PRWEB) May 04, 2012
This small town of 3,500 is about to take a central role in what is being called the "most ambitious global wildlife series ever."
On Sunday May 6th, the BBC documentary series Planet Earth Live will launch from southern Kenya – and Ely, Minnesota. National Geographic Wild will air the programs in the US and Canada beginning May 7th.
BBC Worldwide will broadcast the series in 140 countries starting on Sunday for the next three weeks with dates and times varying according to territory. National Geographic Wild has partnered with BBC One to air the six-part series retitled 24/7 Wild.
"Right across the natural world, the month of May is make it or break it time for young animals," the Planet Earth Live trailer states. The documentary takes place in six countries on five continents. The BBC says the series will "follow the real life and death struggles of baby animals from around the world. It is a critical moment in these young animals' lives, as they try to survive the most challenging month of the year."
The Wildlife Research Institute's study of black bears brings the BBC to Ely.
"We're here because of the bears," says a BBC producer. "This is the biggest thing to put Minnesota on the global stage in the next year unless they win the Stanley Cup. The BBC reaches 250 million viewers, add to that the National Geographic viewers and you have one incredible audience."
"In my entire career this is the biggest opportunity we've had for a worldwide audience to learn directly from the bears," says Dr. Lynn Rogers, WRI senior biologist. "We're honored to be part of this project that features the amazing area we call home and the remarkable animals we study."
Ely Mayor Roger Skraba couldn't be happier about the worldwide spotlight.
"To have the BBC filming our Ely bears is phenomenal," says Skraba. "The quality of their work is second to none. Not only are their programs beautiful, but look at the audience. If a fraction of them come to visit us, we'll happily welcome them – what a great boost to our economy."
WRI study bears being filmed include Lily, Jewel and Juliet's families. In addition to the Ely bears, grey whales in the Pacific, meerkats in South Africa, baby elephants in Kenya, macaque monkeys in Sri Lanka, and lions of the Masaai Mara are being featured.
British broadcasters Richard Hammond and Julia Bradbury host Planet Earth Live – Richard from Kenya, Julia from Minnesota.
For more information:
BBC/Planet Earth Live: http://www.bbc.co.uk/mediacentre/proginfo/2012/19/planet-earth-live.html
Additional program info: http://www.bbc.co.uk/programmes/p00qj06z
WRI/NABC Media Coordinator Bev Hauptli: MediaRelations(at)bear(dot)org
North American Bear Center: http://www.bear.org
Wildlife Research Institute: http://www.bearstudy.org
***US viewing: National Geographic Wild schedule for "24/7 Wild" (all times EDT)
"24/7 Wild: First Steps": Monday, May 7, at 9 p.m. (BBC premiere – Sunday, May 6)
"24/7 Wild: High Stakes": Monday, May 14, at 8 p.m. (BBC premiere – Thursday, May 10)
"24/7 Wild: Giant Leap": Monday, May 14, at 9 p.m. (BBC premiere –Sunday, May 13)
"24/7 Wild: Going to Extremes": Monday, May 21, at 8 p.m. (BBC premiere – Thursday, May 17)
"24/7 Wild: Make or Break": Monday, May 21, at 9 p.m. (BBC premiere – Sunday, May 20)
"24/7 Wild: Winners & Losers": Sunday, May 27, at 8 p.m. (BBC premiere – Thursday, May 24)
###