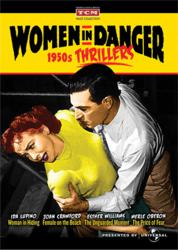 Four cinema icons in four different roles are brought to DVD in newly restored and re-mastered versions, never before available on DVD.
Philadelphia, PA (PRWEB) May 08, 2012
A four-spot of actioners featuring damsels in distress, Women In Danger: 1950s Thrill­ers sports some of the screen's greatest actresses in trouble—a whole lotta cinematic trouble. The set of four adventure movies is an exclusive release from Turner Classic Movies in conjunction with Movies Unlimited, and is heading for movie collectors in June 2012. This filmland foursome has never before been available on DVD and each movie was fully restored and re-mastered.
The four films in the set include:
Woman In Hiding (1950): Expert noir mystery with Ida Lupino as the scion of a wealthy family who uncovers scheming new husband Stephen McNally's real plans after she survives a suspicious car crash and is helped by a drifter (Howard Duff, her soon-to-be-real life-husband). John Litel and Joe Besser also appear; directed by Michael Gordon ("Portrait in Black").
Female on The Beach (1955): Joan Crawford shines as a widow who leaves Las Vegas for a new seashore home in California. Soon, she encounters a shady realtor (Jan Sterling) and a beach bum (Jeff Chandler) whom she be­comes interested in, but there's a secret lurking as the place's previous tenant died from mysterious causes. Joseph Pevney ("Man of a Thousand Faces") directs.
The Unguarded Moment (1956): Esther Williams gets out of the pool for this suspenser in which plays a sexy school teacher who captures the attention of student John Saxon. She begins getting dirty letters and eventually agrees to meet the admirer at night, but she doesn't know what she is in for. George Nader and Jack Albertson also star while Harry Keller ("Tammy and the Doctor") helms.
The Price Of Fear (1956): Lex Barker is part owner of a dog track who goes on the run when the mob muscles in. He winds up accused of two murders, including a hit-and-run that was actually committed by flirtatious pick-up Merle Oberon. The heat gets turned up as the police pursue him in this thriller with Charles Drake and Warren Stevens, and TV veteran Abner Biberman ("Maverick," "Twilight Zone").
All four films in the Women In Danger: 1950s Thrillers collection are made available through a partnership with Universal Studios Home Entertainment and Turner Classic Movies and being released in conjunction with Movies Unlimited.
Movies Unlimited is one of the world's oldest and most reliable video retailers of DVD and Blu-ray titles, specializing in hard-to-find movies and TV shows. Women in Danger: 1950s Thrillers can be ordered through their website at http://www.moviesunlimited.com website or by calling 1-800-4-MOVIES. The Philadelphia-based company also publishes the annual encyclopedic 800-page Movies Unlimited DVD Catalog.
For further information, please contact:
Irv Slifkin (215-637-4444, ext. 6113) irv(at)moviesunlimited(dot)com