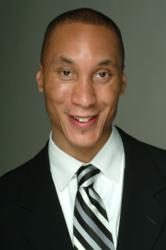 While thinking like a man may help women get into the male brain, truly thinking like a man will make a woman less than her true self.
Philadelphia, PA (PRWEB) May 04, 2012
Recommending that women "think like a man" makes a good premise for a box office leading romance-comedy – namely, "Think Like a Man," based on the book "Act Like a Lady, Think Like a Man" by comedian-author Steve Harvey.
But it's not the advice that African-American counselor and noted sex therapist Dr. James Wadley would give for real-life relationship success.
In fact, it goes against the core message of Wadley's recently released second book, "The Lost and Found Box: A Provocative Exploration About Rediscovering Happiness and the Real You!" It follows up on his first book, "Would You Marry You?," further exploring the importance of maintaining authenticity during the courtship process and in developing other relationships.
"While thinking like a man may help women get into the male brain, truly thinking like a man will make a woman less than her true self," said Dr. Wadley. "Being a woman and thinking like a woman can be pretty cool, and our world and relationships would be all the poorer without the female perspective."
He adds that a woman denying her true nature and self would be "disingenuous to her mother, grandmother and any other woman who marched, fought, bled or died for women to have the same rights and privileges afforded to men."
Wadley writes that honesty often suffers in courtship. Sacrificing their own identity, men and women do or say things that go against their beliefs to win favor from their potential partner.
"Sometimes people will do anything to build or maintain a relationship," Wadley said. "They consequently end up losing their values, ideas, beliefs, behaviors and attitudes that allow them to be special and unique. This book is about finding and rediscovering those traits in your Lost and Found Box that allow you to be you."
The Lost and Found Box is available at Amazon.com, Authorhouse.com and the University of Pennsylvania Barnes & Noble for $23.50 soft cover ($3.99 Kindle version available at Amazon).
About Dr. James Wadley
Dr. James Wadley is an associate professor and director of the Master of Human Services program at Lincoln University in Pennsylvania, as well as a licensed professional counselor in Pennsylvania and New Jersey. He is considered one of the nation's best sexuality therapists and has appeared on numerous television and radio programs. He has presented at some of America's most prestigious higher education institutions, including the University of Pennsylvania, Brown University, University of Kentucky, Ohio State University, University of Indiana and James Madison University.
For more information, visit Wadley's website at http://drjameswadley.com or follow his blog at http://drjameswadley.blogspot.com.