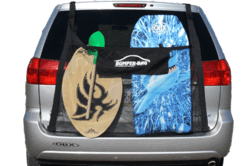 Free storage bag with your purchase.
Wilkes-Barre, PA. (PRWEB) May 05, 2012
The Bumper-Bag is a temporary storage solution for your van or SUV. It is made from high quality, durable polyester mesh and polypropylene webbing. The Bumper-Bag expands to fit the rear door of your vehicle and gives you the extra storage space you need when you need it. When not in use, the Bumper-Bag folds down to a compact size for quick and easy storage. After carrying wet or muddy gear in it, the Bumper-Bag can be put in a washing machine and laid flat to dry.
Thomas Bolesta, inventor of the Bumper-Bag created the product in response to his family's needs. "As a parent of three young children, I always found myself carrying around dirty gear…messy football pads after practice or wet sand toys after a day at the beach. I could not find another rear cargo bag on the market that met my family's needs so I created the Bumper-Bag."
There are two sizes of Bumper-Bags available – a full size model that expands to a roomy 48 inches by 25 inches and allows the driver to carry up to 50 pounds. The sport model is more compact but allows for additional rear cargo storage. The Bumper-Bag starts at $39.95 and can be ordered online at http://www.bumper-bag.com.
Sportsmen and outdoorsmen love the Bumper-Bag as well. The product provides extra storage for fishing gear, camping items, or duck decoys. The return trip from a long day in the outdoors will not be a smelly one when messy gear is stored in a Bumper-Bag.
There are many different uses for a Bumper-Bag. Visit our website http://www.bumper-bag.com for more ideas, or to learn more about the product.