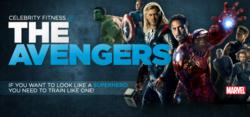 "In the long run, consistency and intensity are far more important than how much weight you lift." - Brad Bose (Robert Downey Jr.'s Trainer)
Boise, ID (PRWEB) May 04, 2012
Fans can now get a superhero physique with the workouts that turned Chris Hemsworth, Chris Evans, Robert Downey Jr. and Scarlett Johansson into real-life Avengers. Whether fans are looking to become a lithe ladies' man like Tony Stark, a Godlike Thor, a broad-shouldered Captain America, or a nimble assassin like the Black Widow; they can find the exact workout plan for them. Bodybuilding.com, the Internet's most-visited bodybuilding and fitness site, has gained access to behind-the-scenes tips straight from their trainers: Duffy Gaver, Steve Zim, and Brad Bose.
Chris Hemsworth trained hard for six months under the watchful eye of trainer Duffy Gaver, a former Navy SEAL who also trained Scarlett Johansson for her role as Black Widow. To build massive muscle, Gaver had Hemsworth lift big and eat bigger. Hemsworth downed huge amounts of chicken and red meat. For thickness, Duffy had Chris rock a variety of heavy rows: bent-over barbell, dumbbell, lat pull-downs, extra arm work, and shoulder moves. To create Johansson's lithe athleticism, Duffy made her do lots of timed reps. She pushed through combinations of air squats, running, push-ups, wall-balls, and pull-ups to build stamina and strength for her epic fight sequences.
Chris Evans was trained for Fantastic Four and The Avengers by Steve Zim, best-selling author of Hot Point Fitness and a trainer in Hollywood. Evans took only four weeks to prep for the movie, performing four workouts per week lasting an hour and 15 minutes per session. Zim had Evans complete four sets per exercise performed; usually for 10 reps. Evans paused at the top and bottom of each rep for maximum muscle engagement. To help achieve a lean look, he also ran for 15 minutes on a treadmill after each workout at a 10% incline.
After months of hard training and consuming 5,000 calories a day, Robert Downey Jr. added 25 pounds of lean muscle to the frame he carried in Sherlock Holmes with the help of his trainer Brad Bose. "In the long run, consistency and intensity are far more important than how much weight you lift," Bose says. "And Robert possesses both of those."
To get more information on The Avengers' workouts, free printable workout programs, and exclusive interviews, go to http://www.Bodybuilding.com/Avengers.
Bodybuilding.com offers more than 13,000 health and fitness supplements and accessories to help more than 15 million people every month achieve their health, fitness and appearance goals. The website contains more than 35,000 pages of FREE information, including more than 20,000 articles and videos, expert online trainers and new content added daily.