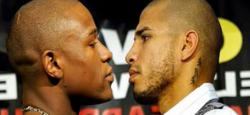 Tickethunteronline.com is marking down all remaining Mayweather vs. Cotto tickets by 30% with promo code "wicked" at tickethunteronline.com
Los Angeles, CA (PRWEB) May 03, 2012
Just 2 days until Floyd Mayweather Jr steps into the ring vs Miguel Cotto. Mayweather vs Cotto tickets have been in the top 5 selling sporting events again this week. The fight titled "Ring Kings" on El Cinco De Mayo may have been more appropriately named "El stink o de May-weather". Pay per view buyers will undoubtedly be treated to another Mayweather bore fest. The simple fact is Mayweather vs Cotto equals snooze button.
Floyd Mayweather Jr, a one man hype team, has been doing something we've never seen him do or thought he was capable of doing before. He is talking up his opponent. That's right. In HBO's Faceoff the flamboyant pretty boy, Money Mayweather, had nothing but positive things to say about his May 5th adversary, Miguel Cotto. You make think this is just a new Mayweather showing some sportsman like conduct. Think again. After all this is the same Mayweather that sucker punched his last opponent, albeit "legal" and ripped off hard working fans out of a fight they paid to see. Always the promoter, he is trying to turn a buck.
The reality is Mayweather needs to hype his opponent to sell Mayweather vs Cotto tickets because he does not belong in the same ring with him. The bottom line is styles make fights. Cotto's style as a square standing, puncher will make an easy pay day for the blindingly fast counter punching savant in Mayweather. Let's not forget Cotto vs Pacquiao. Cotto was annihilated by the speed of Pac-man. Of all the opponents that have faced both Mayweather and Pacquiao the one consistent theme has been, Mayweather is faster.
There is no denying that Miguel Cotto is a talented boxer, but, mayweather is a gifted. There is a huge difference. As a 7 to 1 underdog, Cotto has not been given much support from odds makers either.
The execs at Goldenboy want you to believe Cotto is too strong and big for Mayweather. Does this sound familiar? Remember Carlos Baldomir or Oscar De La Hoya? We were sold the same story for both fights and unfortunately Cotto is closer to Baldomir than De La Hoya and that seemed more like 12 rounds of sparring for Mayweather.
If you're like me you will most likely pony up for the pay per view anyway just to hope Mayweather is instigated into more childish like antics that will spur some excitement but, in the end all the hype in the world could not turn this into an exciting fight.
Tickethunteronline.com is marking down all remaining Mayweather vs. Cotto tickets by 30% with promo code "wicked" at tickethunteronline.com