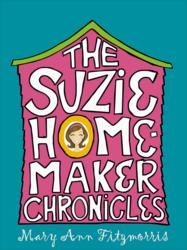 Delivers laugh-out loud fun!
New Orleans, LA (PRWEB) May 07, 2012
Some mothers are strict. Others, crazy. A few are perfect. (They ruin it for everyone.)
Mary Ann Fitzmorris is fun. And that was all she could be. A mother must be organized to be strict. A mother has to be... well, perfect to be perfect. Mary Ann Fitzmorris had to settle for crazy - and fun.
The Suzie Homemaker Chronicles is a quick and fun read: stories of modern family life in a house where its heart is delightfully deviant, the ideas are big and the consequences bigger.
But beneath all the mayhem is the heartwarming bond this mother shares with her kids, and the lesson that children are best raised by parents brave enough to trust their own instincts. In this case that meant skipping school, eating cookies for dinner, and a youth that was soccer-free!
Those in the throes of parenting will like, Fattening Fundraisers, Cruel and Unusual Punishment, or Viva Las Grandma. Pet lovers will enjoy And Then There Were None. Gar(b)age Sales is fun for everyone.
And when it's all done, what happens to Mom? The last chapter of the book is about real women's pressing issues – like what to do now? And fat and wrinkles, of course!
All the pieces are short, consistently funny, and accompanied by various visual effects which contribute to the frivolity. Every parent, grandparent, or anyone being parented will find something fun and familiar in The Suzie Homemaker Chronicles.
Mary Ann Fitzmorris is a freelance writer, television and radio producer, talk show host, and voice-over talent. She and her husband own the website nomenu.com, featuring all things New Orleans food. They live outside New Orleans, with what remains of their furry brood. Her two children have moved and left no forwarding address.