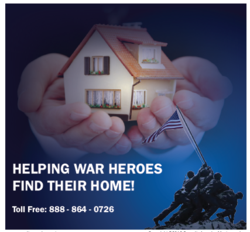 Houston/Dallas/Austin/San Antonio, Texas (PRWEB) May 10, 2012
Relocating anywhere for a military family can be a hassle, especially if they're looking to purchase a new home in an area they are unfamiliar with. VA Home Loan and Relocation Experts at Security America Mortgage from Houston, Texas make it their priority to make the transition to a new location and the purchase of a VA Home as easy as possible.
Military relocation, VA mortgage, and real estate services for first time home buyers just got easier with the new collective sponsorship joined by Security America Mortgage and Security American Realty. The VA Home Loan, Real Estate, Mortgage Experts recently announced their new partnership of Wounded Warrior Volunteer Services, providing Texas Veterans more support nation wide. "The challenge of reaching out to all American Heroes can be tough, but it's worth a shot," said Residential Mortgage Loan Originator, Jason Noble. The challenge for the Texas leaders begins with the Southern States in the U.S. – Texas, Florida, Louisiana, Alabama, and the list grows on as California, North Carolina, Kansas, Colorado, and Arkansas are NMLS approved for these ambitious VA Mortgage Loan Specialists.
VA Requirements for Texas VA Home Loan Approvals are Streamlined with Security America Mortgage
When applying for a VA Home Loan, military member eligibility falls under a few rules. The VA 'Law' in Texas requires that the applicant be an eligible veteran or surviving spouse who has available entitlement AND the veteran plans to occupy the property as their primary residence. Sounds easy, right? Well, with Security America Mortgage experts helping you through the minute details of the VA Loan Process, buying a home using a VA Home Loan is THAT EASY!
Why are VA Home Loan Eligibility is Effortless to Obtain in Texas?
Eligible Veterans and Active Duty Personnel May Obtain VA Loans For the Following Purposes in Texas:
To buy a home up to 4 units for one veteran, including Town homes or condominium units in a VA approved project

To refinance an existing home loan
To reduce the interest rate using an "Interest Rate Reduction Refinance Loan" (IRRRL)
To convert and adjustable rate mortgage to a fixed mortgage payment
To convert a conventional loan to a VA Home loan
The Advantages of VA Home Loans in Texas are Better Compared to Conventional Home Loans & FHA Loans
VA Home Loans in Texas Allow For 100% Financing (NO DOWN PAYMENT REQUIRED)
No Cash Reserves Required for Texas VA Loans
VA Funding Fee can be financed into the Mortgage, Making Zero Closing Cost
Seller can contribute 4% to cover closing cost AND prepaid items for VA Buyer
No Monthly Mortgage Insurance is Requires in Texas
More lenient on bad credit histories for approvals in Texas
What are the benefits of VA Home Loans in Texas?

Texas VA Allows Easier Pre-Approval Standards
Texas VA is Less Strict on Credit and Income Requirements
Texas VA Allow No Prepayment Penalties on VA Loan
No Down Payment Required for Texas VA Home Loans
VA Pays Mortgage Insurance Fees in Texas
VA Pays For Closing Costs, Inspections, & Seller Fees
VA Funding Fee in Texas Provides For Lower Rates than FHA Home Loans