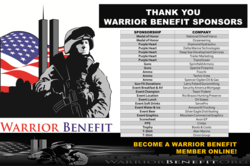 Texas, Florida, California, Colorado, United States Military Base (PRWEB) May 08, 2012
Each year wounded warriors from the United States Armed Forces from Texas come to one place to attend the Annual Clay Sporting Tournament held at Rio Brazos Hunting Reserve. The VA Mortgage and Home Loan Experts at Security America Mortgage, Inc. in Houston, Texas recently attended the 4th Annual Warrior Benefit Clay Sporting Tournament as volunteers and AV/breakfast sponsors on May 5, 2012.
Rod Long, President representing Team Trident, and Sebastian Burfitt, VP Residential Mortgage Loan Officer representing Security America Mortgage, joined their company teams together to help raise awareness to the public about the importance of making positive changes within the VA and civilian communities. Warrior Benefit as a whole collected many sponsors and large groups of individuals who worked together to make a difference in the lives of the military members and families who were wounded during their time spent fighting the War on Terror overseas.
The full list of the companies who also attended as Sponsors of Warrior Benefit are listed as follows:
1. Ainsworth Trucking
2. Aker Marine
3. Axon EP
4. Boots & Coots
5. Cintas
6. Deep Sea Development Services
7. Delta Marine Technologies
8. Diamond Hydraulics
9. Fiocchi
10. Larry Feland Gunsmithing
11. Mountain Commercial Graphics
12. National Oilwell Varco
13. Oceaneering
14. Oil States
15. Orion Group
16. Rio Brazos Hunting Preserve
17. Security America Mortgage
18. ServePro
19. Silver Eagle Distributing
20. Spectre Firearms
21. Spencer Ogden Oil & Gas
22. Sprinfield Armory
23. Team Trident
24. Techni-Kote
25. Trailer Marketing
26. TransOcean
Based on the WarriorBenefit.org website, the Warrior Benefit Clay Sporting Tournament occurs once every year in the month of April or May with the purpose to gather sponsors and veterans together for the Wounded Warriors who are recovering from injury. The goal of the event is to raise money for Veterans with disabilities due to their time in the United States Armed Forces. Veterans within the United States of all ages are always welcome to attend the Warrior Benefit each year as are any military family members or companies who wish to sponsor as teams or individuals.
After a speech was given by Captain Ryan Sparks USMC, from the HBO Documentary "The Battle of Marjah" the audience of veterans and sponsors were unanimously brought to tears. Nina Howell, Web Marketing Manager at Security America Mortgage, Inc., said "Being a part of the 'bigger picture' is truly an amazing experience for our entire team, and when the big picture is to impact the lives of War Heroes, the moments spent being a volunteering really go without saying. We are Moved."