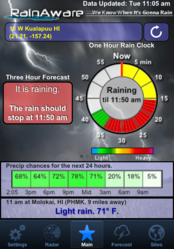 Not only was RainAware the clear winner, but it actually performed better than the human forecaster
Oklahoma City, OK (PRWEB) May 04, 2012
A recent independent study concluded that "RainAware reigns supreme" among a new breed of weather apps that predict short-term precipitation times.
The study was performed by Bill Stein, weather blogger for The Minnesota Forecaster, and was carried out on May 1 as thunderstorms bore down on the Minneapolis/St. Paul area. Stein consulted each app at regular intervals until rain began and ended. The apps tested were RainAware, Ourcast and Dark Sky.
"RainAware was the most accurate in determining both the beginning and ending times of the rain," wrote Stein. "We also think the app's features are generally the best of the apps tested."
Not only was RainAware the clear winner, but it actually performed better than the human forecaster for nearly two hours leading up to the onset of precipitation. For the complete study, visit http://www.minnesotaforecaster.com/2012/05/putting-rain-predicting-apps-to-test.html.
"We were pleased with the results of Stein's test but know that no weather prediction system is perfect," said the app's creators. "Still, our goal is to make RainAware as close to perfect as possible. We are actively working to make it more reliable every day."
Among the problems common to all radar-derived systems are ground clutter and virga. Ground clutter is noise in the radar data caused by objects other than precipitation, while virga is precipitation aloft that does not reach the ground. RainAware employs robust methods to reduce both, which in turn reduce false alarm. "While not perfect, it's clear to us that RainAware is the superior app when it comes to distinguishing real rain from radar noise," wrote Stein, who has been testing these apps for months.
The makers of RainAware also stress the importance of user feedback in making the system better. "Each location has unique challenges," they said. "We work hard to get it right, and make changes to computer code on the spot as we receive information from users."
"Everyone knows the weather is unpredictable," said the developers. "RainAware is redefining what that means."