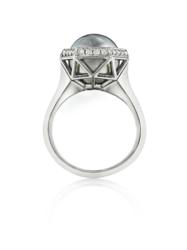 "The rarest things in the world, next to a spirit of discernment,
are diamonds and pearls." — Jean de la Bruyère
Mountain View, CA (PRWEB) May 06, 2012
Atelier Leseine designer Nathalie Leseine unveils her latest pearl jewelry collection, Perle Captive. The west coast based artist has very definite ideas about jewelry design. Her customers are sophisticated collectors with a cultivated taste, demanding fashion forward adornment. Leseine understands the tastes of these savvy collectors. So her artistic jewelry is a perfect fit for the modern lifestyle of elegant women.
Atelier Leseine opened in 2011 in Mountain View, CA with a philosophy of bringing luxurious jewels with a multi-cultural vibe into classic and forward thinking design. Perle Captive is the collaboration of Leseine and Brooklyn jewelry designer Geoffrey Good; whose modern design-driven forms reveal his masterful craftsmanship.
In Perle Captive, lustrous hand-selected Tahitian cultured pearls are set in fine gold accented by brilliant diamonds. One will notice an homage Leseine pays to the iconic geometric angles of the Eiffel Tower, in Leseine's hometown of Paris, France.
A world traveler and Tahitian pearl expert, Leseine's love for classic forms from France, the United States, the South Pacific and Asia are hinted at in her distinct line. She weaves characteristic elements from cultures she loves into contemporary form with a focus on detail worthy of her French roots.
Spending time in French Polynesia taught Leseine the precise art of quality grading Tahitian cultured pearls. Perle Captive exhibits the finest of these marvelous marine gems. Masterful French diamond pavè work also influences Leseine's collection. Are these delightful pearls caged or caressed?
Perle Captive speaks to each individual in its private language of love. One thing becomes clear--for every woman fortunate to wear these artful pieces, the Perle Captive captivates.
To learn more contact Nathalie Leseine at nathalie(at)atelierleseine(dot)com or at
Atelier Leseine, PO Box 391446, Mountain View, CA 94039.
Visit http://www.atelierleseine.com Call (650) 714-4112 or fax: (650) 941-4544