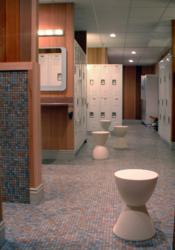 Cuoco saved me forty thousand dollars with that recommendation, and in addition....gave me design that iced my competitor's
Miami, New York City, Middle East, Europe (PRWEB) May 08, 2012
Cuoco Black's love for health, wellness and fitness has brought him much adoration from his clients. For one reason, prior to any initial consultation, designer and client have a shared bond and love for the attainment of physical fitness. Another reason would be his designs which are unpredictable, distinctive and accurately reflect his client's brands....i.e., unique marketing platforms from which to sell.
John Terlizzi, former owner of the 48,000 square foot Great Bay Athletic Club in Nashua Newmarket New Hampshire had met the designer in San Diego at the annual fitness convention of IHRSA, the International Health Racquetball and Sports Association. Shortly thereafter Terlizzi talked with the designer at another fitness trade show, Club Industry in New York City, and at that point decided to retain Black for his club's renovation plans.
Terlizzi asked Black to tour his facility as he was prepared to begin ordering equipment and furnishings for his renovation. "I thought I had made some wise decisions regarding furnishings" said Terlizzi, but what Terlizzi didn't expect was the designer's intervening in the ordering process and recommendation for alternative purchases. "Cuoco saved me forty thousand dollars with that recommendation, and in addition....gave me design that iced my competitor's" said Terlizzi.
The designer had recently completed the interior design branding of Mid City Gym, one of the country's oldest gyms in Times Square, New York City. Inspired by the film Terminator 2 Judgment Day, the designer developed a metaphorical concept titled Morphed that incorporates a futuristic metallic cobalt blue and orange floor tile which crawls across the gym's floors, walls and ceiling creating a surreal, dramatic, optical aesthetic. The design borders on theater, considering the proximity to Times Square, is a bull's-eye-dead-on-target-interior-design-branding-success reflecting the client and the energized neighborhood.
The designer is considering an opportunity to market design in the Middle East. "It is evident that areas of the Middle East are fertile and receptive to progressive design" says Black. Futurism, an area of the designer's interest, is an apparent apparition in the Middle East and well chronicled in the media. "There is big vision there" says Black, "I am working on big ideas, the gestalt would be to have a collaboration of big's."
About Cuoco Black
Cuoco Black is a former faculty member of the New York School of Interior Design from which he holds a BFA with distinction and Professional Design Diploma.
He believes the art of interior design has been lost to the boutique design aesthetic and designs according to natural rhythms which reflect the spirit and personality of his clients. Artfully fusing harmonious flourishes of color and texture, seductive lighting and enchanting furnishings, he develops beautiful designs which express purpose are a reflection of his client's brand void of trending influences.
His work has been featured in the New York Times, Bloomberg.com, Bravo.com, FoodandWine.com, and Elle Décor FR. His design for the Experimental Cocktail Club in Paris France has garnered his clients a "Best Bars in the World Ranking" at #13, by Bartender's Magazine.
Contact
Cuoco Black
00 1 917 375 7534
press(at)cuocoblack(dot)com