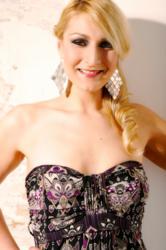 It takes courage to take that first step
London (PRWEB UK) 4 May 2012
Confidence is key to become successful in the modelling industry say http://www.lamodelondon.com
Petra Tileschova has just had a very successful shoot day at the modelling advice company based in the heart of modelling London. As a result, a brand-new modelling portfolio website has just gone live and La Mode can't wait to shout about it.
'Petra is a stunning looking girl and a natural in front of the camera', says Helen Smith, director at La Mode London.' It was a real pleasure watching her blossom as the photo shoot day went on.' She goes on to explain how a models new to the industry is usually very shy and awkward at the beginning of the day and Petra was no exception. The photographers and beauty stylists are all expert in making a new model feel at ease and by the end of the session; the photo shoot was a complete success, evident in Petra's stunning new portfolio. A good time was had by all.
'It's quite normal for any model to be a little shy at first, ' Explains Helen. 'Even the most seasoned model takes a bit of warming up', she laughs. 'It gives us all great satisfaction to see our clients walk out of the door, at the end of the shoot day, with a smile on their face and a confidence in their stride.'
The results of the photo shoot certainly speak for themselves. Petra herself is delighted and when asked why she became a model, the brown eyed, blonde haired 25 year old said,'
'It's been something I always wanted to try, maybe because I'm tall and everyone was telling me to go for it, but never had the courage as I haven't been very confident. I've lost quite a bit of weight in the last year and that helped me to try it and give me a greater drive to go for it and see what could happen.'
At 6'2" and with an inside leg measurement of 36 inches, Petra certainly has the height to reach her modelling goal.
'Petra is another aspiring model who has recently decided to follow her dreams and try modelling for the first time,' continues Helen. 'It's having the courage to take that first step which is always the hardest for any model that has confidence issues. For Petra it has always been something she has been interested in but the opportunity seems to have certainly just arrived. For her, modelling is an exercise in building self confidence and she has just overcome the first hurdle beautifully.'
Petra is available for commercial, catalogue, fashion and editorial modelling. With her tall stature, she is certainly a plus size model, a model that can represent real women out there according to La Mode.
View Petra's brand new portfolio at http://www.lamodelondon.com