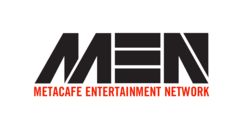 San Francisco, CA (PRWEB) May 04, 2012
May 4, 2012 – The Metacafe Entertainment Network (M.E.N.), the leading creator, programmer and distributor of short-form video entertainment for guys, has added 8.9 million new users of the Metacafe Facebook Timeline App, making it the third fastest-growing app in the last week.
This growth was fueled by social sharing of the company's original, exclusive and curated short-form video content for young adult male entertainment enthusiasts. One show that consistently proves popular in the social mediasphere is the signature original, Unfiltered, a celebrity interview series in which comedians put A-list stars in the hot seat and turn the traditional junket conversation on its ear. The show has driven nearly 50 million video views in total, and a recent interview with the cast of American Reunion has been watched more than 16 million times and generated more than 21 thousand Facebook "Likes."
"Social discovery is an increasingly important way people are consuming entertainment content," said Erick Hachenburg, CEO of the Metacafe Entertainment Network. "We all rely on our friends for good recommendations and our new app is making it even easier to see what your friends are watching, sharing and liking."
The Metacafe Facebook Timeline App, which launched in February, utilizes Open Graph functionality and is as simple as clicking the new "Add to Timeline" button when watching a video and installing the app on Facebook. The video automatically populates on the social timeline, and "frictionless sharing" is easily controlled via a simple on/off button incorporated into the video watch page.
About M.E.N.: Video Entertainment for Guys
The Metacafe Entertainment Network – M.E.N. – is the leading creator, programmer and distributor of short-form video entertainment for guys. We specialize in movies, video games and live action sports, keeping today's M18-34 entertainment enthusiasts in the loop on what's trending in the categories they care about most. We've partnered with premier content providers in each category we cover, and our dedicated team of editorial experts and production specialists delivers a steady stream of original, exclusive and handpicked video entertainment content that drives hundreds of millions of video views each month – on our owned-and-operated sites and via preferred publisher partners. A privately held company, Metacafe, Inc. is headquartered in San Francisco and has offices in New York City, Los Angeles and London.