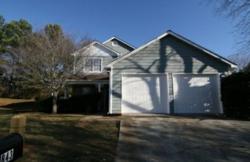 Ranked as the #1 rental market in the USA by Forbes Magazine.
(PRWEB) May 08, 2012
Working alongside a well-established property developer in Atlanta, Experience International is the UK's first agent to launch an exclusive 50% finance offer to international investors on fully-refurbished, Atlanta property. Previously foreclosed homes, Experience International have secured a range of pre-tenanted properties in desirable areas which offer investors yield up to 20%.
In recent years, below market value US real estate has become somewhat of a portfolio must-have, with many investors looking to snap up bargain properties while prices are low. For those searching for high rental returns and strong capital growth potential, Atlanta property for sale offers investors a stable income stream.
US real estate prices are currently experiencing a lull, with Standard & Poor's (S&P)/Case-Shiller Home Price Indices stating that property prices continued to fall in Feb 2012. S&P reported an annual decline of 3.6% for 10-city composites and 3.5% for 20-city composites.
For many, there has never been a better time to enter US property investment however, investors should conduct strict due diligence when selecting an area to invest.
Due to its proven and achievable high rental yields, Atlanta property for sale has become a popular choice for investors according to UK-based investment company, Experience International.
Ranked as the No.1 rental market by Forbes Magazine, Atlanta is also home to over 5.5 million people with specialists forecasting a 7% growth by 2014 – much higher than the average 4.52%. This coupled with the fact that the city is the location of the Coca Cola, AT & N, CNN, Delta Airlines and UPS head offices, makes Atlanta an ideal location for buy-to-let property investment.
Foreclosed Homes in Atlanta
To date, the vast majority of house hunters are faced with a market which is dominated by
Atlanta foreclosures homes, with many properties in need of repair, which has helped drive the demand for newly refurbished Atlanta property for sale.
Offering net yields up to 20%, pre-tenanted Atlanta properties are proving popular for international investors and landlords searching to expand their property portfolio.
Data reported by Bloomberg also has revealed that since 2006, the average price of Atlanta property for sale has decreased by 32%. In the current market, investors can purchase a cheap, pre-tenanted property which has strong potential for capital appreciation.
Exclusive 50% Finance on Atlanta Investment Properties
Working in conjunction with developers on the ground in Atlanta, Experience International can exclusively offer investors 50 finance and all properties which are sold are structured to be cash flow positive after repayments.
To help maximise the rental potential for pre-tenanted Atlanta property for sale, all houses are located in in sough-after, desirable neighbourhoods with good employment prospects and nearby schooling.
For more information about Atlanta property investment contact Experience International on 0207 321 5858 or email enquiries(at)experience-international(dot)co(dot)uk.