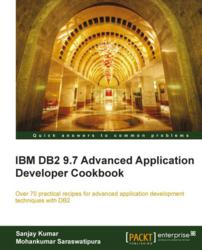 Over 70 practical recipes for advanced application development techniques with DB2
Birmingham, United Kingdom (PRWEB) May 05, 2012
Packt Publishing is delighted to announce the publication of IBM DB2 9.7 Advanced Application Developer Cookbook, a unique practical book providing IBM DB2 developers with hands-on experience to design high quality applications for optimum performance. This cookbook also includes screenshots and insightful tips and hints.
About the Authors:
Sanjay Kumar: A Database Architect with major experience in DB2 application development and performance tuning. He started his career as a database developer and is now a IBM Certified Advanced Database Administrator.
Mohankumar Saraswatipura: A Lead DB2 Database Administrator with immense experience in DB2 application performance tuning and design. He is now an active member of IDUG India and an IBM Information Champion.
The IBM DB2 Enterprise Server Edition is a relational model database server developed by IBM that primarily runs on Unix, Linux and Windows server. DB2 powers the different IBM InfoSphere Warehouse editions acquired by IBM.
IBM DB2 9.7 Advanced Application Developer Cookbook covers all the essential areas of DB2 9.7 such as high availability, resiliency and pureXML enhancements. This book further dives into step-by-step instructions highlighting various techniques of writing advanced Java applications and working with DB2 routines and modules.
Along with providing in-depth references, readers will also learn how to enable Oracle applications on DB2 and migrate Oracle database objects on to DB2 9.7. They will be able to design highly secured applications and master different security aspects.
Packt Publishing has also released and is due to publish other IBMDB2 titles:
IBM Websphere Portal 8: Web Experience Factory and the Cloud: RAW (due)
IBM DB2 9.7 Advanced Administration Cookbook (published)
IBM Rational Team Concert 2 Essentials (published)
All IBM DB2 books are Published by Packt Enterprise. Packt Enterprise is a publishing division of Packt Publishing designed to serve the information needs of IT Professionals in the Enterprise space. Packt Enterprise also publishes on Microsoft, IBM, Oracle, Citrix, Java, Amazon, Google and SAP technologies.