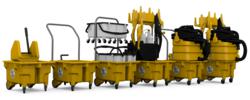 Hamilton, OH (PRWEB) May 04, 2012
Kaivac, developers of the No-Touch Cleaning™ system and the new OmniFlex™ Crossover Cleaning System, announces they will be exhibiting at this year's National Restaurant Association Tradeshow (NRA), opening at Chicago's McCormick Center on May 5, 2012, and running through May 8.
The National Restaurant Association Tradeshow is one of the largest tradeshows in the United States. Nearly 2,000 companies will be exhibiting this year, with an anticipated attendance of nearly 60,000 people from more than 100 countries.
Former President Bill Clinton is this year's keynote speaker.
"We have participated in the NRA show before, but this year is special for us," says Tom Morrison, Vice President of Marketing for Kaivac. "That's because we are one of the 2012 Kitchen Innovations (KI)™ Award recipients."
According to the NRA, the KI Award honors companies that have developed innovative, forward-thinking products and equipment that help food-service operations run their facilities more effectively and efficiently while increasing productivity, quality, and safety.
An independent panel of judges from internationally recognized food facilities selects the Kitchen Innovations Award winners each year.
Kaivac is being honored with the award for its OmniFlex Dispense-and-Vac cleaning system. This system dispenses fresh cleaning solution to floors and then thoroughly removes solution, soils, and contaminants with its wet/dry vacuum system.
"This is really a fun show with lots of people and, as you can imagine, lots of food and entertainment," adds Morrison. "It's also surprisingly inexpensive to attend; I encourage cleaning professionals in the Chicago area to drop by."
Kaivac will be exhibiting at two locations at the NRA show. Their primary booth is No. 312; they will also have a booth in the Kitchen Innovation Pavilion, No. 2440N.
Visit Kaivac on Facebook at: http://tiny.cc/sbkd5