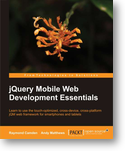 Birmingham, UK (PRWEB) May 07, 2012
Packt releases its second book on jQuery Mobile this month titled, jQuery Mobile Web Development Essentials. This book is a comprehensive guide to building websites with jQuery Mobile that work on a wide range of mobile devices, while making use of easy to follow examples and explanations for clarity.
jQuery Mobile is a touch-optimized web framework, currently being developed by the jQuery team. The development focuses on creating a framework compatible with a wide variety of smartphones and tablet computers, made necessary by the growing but heterogeneous tablet and smartphone market.
jQuery Mobile Web Development Essentials serves as an introductory guide to using jQuery Mobile framework, and explains how to create rich mobile-optimized sites. Readers learn about creating custom jQuery Mobile UI widgets using the widget library, creating native mobile application and converting desktop sites into mobile versions.
The book begins with basic concepts of enhancing simple HTML with jQuery Mobile for mobile-optimized sites, followed by details on building jQuery Mobile form, event, and styling. It shows the reader how to build websites and mobile applications for touch devices such as iPhone, iPad, Android, and BlackBerry with jQuery Mobile library through sample applications.
It is a book for web developers seeking to create mobile optimized websites, and only requires basic knowledge of HTML. The book is now available for purchase, and can be bought in both print and popular e-book formats from this link: http://www.PacktPub.com/jquery-mobile-web-development-essentials/book