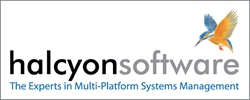 In talking to companies, we recognized the need to make it very easy for businesses to change their scheduling software as in many cases there is clearly a resource challenge in moving thousands of existing jobs over to an alternative solution.
PHILADELPHIA, PA (PRWEB) May 07, 2012
Systems management software provider, Halcyon Software Inc., today announced a major release of one of its flagship products – Advanced Job Scheduler v9.0 for the IBM i platform.
Halcyon Advanced Job Scheduler v9.0 enables organizations to schedule highly complex job streams and track these across different IBM i systems or across other servers to ensure that business processes are running smoothly, at the optimum time and at maximum efficiency.
Key enhancements to this new release include a migration utility for rapid importation of jobs from other standard or third party job schedulers, a command list to check appropriate conditions before jobs are processed, improved reporting and an "FTP error trapping" feature to detect any issues with file transfers.
Importing jobs
A new feature allows jobs from other third party job schedulers to be imported into Halcyon's Advanced Job Scheduler using a migration utility specifically designed for this task.
John Dominic, Vice President of Sales , said, "In talking to companies, we recognized the need to make it very easy for businesses to change their scheduling software as in many cases there is clearly a resource challenge in moving thousands of existing jobs over to an alternative solution."
Halcyon's technical team discovered that there were two main reasons why companies want to change from their existing job scheduling software.
Dominic continued, "The first reason was purely based on cost. Some companies have been faced with additional fees from their software vendors when they have increased the Commercial Processing Workload (CPW); that is the CPW rating of their IBM hardware. The objective of this new release was to automate the capture and import of jobs from other schedulers, saving companies significant labor and cost, provide a reliable methodology for migration and, as our software isn't charged on a CPW basis, protect their business from software or maintenance hikes in the future whenever their IBM i system's CPW rating is increased. The second reason is that the business may have outgrown their existing job scheduler or the standard one shipped with the IBM i system. Today's businesses have a need to handle more complex job streams which requires a solution capable of dealing with multiple job dependencies and running processes across different platforms."
Command List
The software is shipped with a command list function which allows system administrators to easily set a sequence of commands which can be run within or outside of the Halcyon Advanced Job Scheduler. For example, users may want to run appropriate checks to ensure that their usual conditions have been met (such as their high availability process has been shut down, users have all successfully signed off, all printers are off-line etc.) before running the first job of the end of day processing.
Improved reports
Reporting has been enhanced so that system administrators can easily demonstrate to the business that the IT department is meeting service level agreements.
Users can run reports on historic jobs and can also view a schedule of future jobs to see what is about to be run across a defined time period. For example, reports on specific jobs show how many jobs have run successfully and provide information on average run times. This allows IT staff to detect jobs which have over run the expected time slot so that this can be investigated and appropriate action can be taken to rectify the situation.
FTP error trapping
An "intelligent" FTP Scripting Language has been developed by Halcyon so that, in the event of a problem occurring with any File Transfers, IT administrators can set up a pre-programmed sequence of actions, mimicking what a computer operator would do in any given situation.
Pricing and availability
Advanced Job Scheduler v9.0 is available immediately, either as a single utility or as part of Halcyon's Level 4 monitoring software suite. Current customers using Advanced Job Scheduler can upgrade to Advanced Job Scheduler v9.0 free of charge.
Product pricing is tiered and based on IBM processor groups. In addition, Halcyon has published a fair pricing policy so that if customers increase the CPW rating of their IBM hardware they will not incur software upgrade fees giving long term reassurance on costs. To view the policy visit: http://www.halcyonsoftware.com/nocpw
For more information about Advanced Job Scheduler v9.0 visit:
http://www.halcyonsoftware.com/ajs
About Halcyon Software
Halcyon Software is a global leader in multi-platform systems management software. With more than 20 years of delivering proven solutions and first class customer support, Halcyon's products proactively monitor, manage and automate IT operations to significantly reduce costs. Large IT outsourcing companies as well as small to medium sized corporate and public sector data centers rely on Halcyon Software to ensure their mission-critical systems, core applications and services are available 24/7.
Halcyon's solutions support IBM® enterprise class systems, including the IBM i®, AIX® as well as Windows® and Linux® platforms.
Halcyon has regional offices in the USA, UK and Australia, and a worldwide network of partners and distributors supporting the Americas, EMEA, and Asia Pac territories.
###