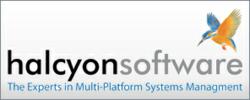 We recognize that System Administrators need a quick and effective way to implement monitoring to suit their particular application environment.
PHILADELPHIA, PA (PRWEB) May 07, 2012
Systems management software provider, Halcyon Software Inc., today announced a major release of its monitoring and automation solution for the IBM i platform – Systems Operations Suite v4.0.
Halcyon Systems Operations Suite v4.0 enables organizations to continuously monitor critical processes and core applications running on the IBM i platform so that operations run without disruption and business continuity is maintained. The technology also allows System Administrators to automate all routine tasks, essential system saves and manual check lists as well as configure appropriate responses to common issues to eliminate human error and reduce IT costs.
IT staff can be notified of unexpected events or problems, including security breaches via email, cell phone, or opt to have alerts displayed on a management dashboard, the Enterprise Console, which is included in the software package. With the new release IT administrators can now access the management dashboard to remotely manage alerts through smart phones and tablets such as iPhones, iPads and Android devices by downloading a free "smart app" developed by Halcyon.
Other key enhancements include an extended library of rule-based templates for monitoring critical applications such as ERP and high availability solutions as well as shipped examples of best practice auditing rules for managing IBM i security. This new release also includes an automatic upgrade facility, and an "import settings" function so that customers can easily duplicate their Halcyon environment for back up purposes or during high availability role swaps.
John Dominic, Vice President of Sales, Halcyon Software Inc. said, "We recognize that System Administrators need a quick and effective way to implement monitoring to suit their particular application environment. The expanded set of templates for monitoring ERP, business applications, high availability and security meets this requirement. Rules can be easily "switched on" from day one and this provides immediate value to the business. It also means that urgent issues with applications, processes or security breaches are immediately flagged up and correction processes can be automated to eliminate repetitions of the same issue. A free "smart app" written for smart phones and tablet devices increases efficiency so that our front-end dashboard can be remotely accessed when IT staff are not at their desk or are off site. The new automatic upgrade facility ensures that customers can seamlessly upgrade and are always using the latest version of our software."
Business Application Monitoring
A Halcyon command has been created in the software for each of the commonly used ERP applications including JD Edwards, Infor, SAP, Lawson M3 (Movex), Misys Equation and Midas Plus as well as high availability (HA) solutions. By using the appropriate Halcyon command, the software is populated with the relevant templates which enables users to automate the monitoring of their business application and HA environments running on IBM i systems. The templates can be fine-tuned and customized to suit an organization's specific environment.
Security Compliance and Auditing
Systems Operations Suite v 4.0 is shipped with more than a hundred examples of recommendations for best practice auditing of your IBM i security. System Administrators can simply release the rules which are grouped together into functional areas. The software also offers real-time monitoring of the IBM i Audit Journal (QAUDJRN) for security-related events. Users can monitor for system value and configuration changes, authority failures, periods of inactivity, invalid sign-on attempts, specific commands as well as user profiles that become disabled or are enabled.
Automatic Upgrade Facility
Systems Operations Suite v4.0 constantly monitors to check if a new version or a higher PTF level is available for download. If a new version is available then the software automatically upgrades the customer's Halcyon environment.
Import Settings
Previously, IT staff could not back up their Halcyon environment when the monitoring software was in active use on their live environment. Using the new "Import Environment" (IMPENV) command function, users can now replicate their current Halcyon settings to a different IBM i system or partition - which is useful when role swaps are scheduled for high availability purposes. This new functionality quickly and easily provides a back up copy when the live copy of Halcyon software is in use and also helps towards achieving business continuity goals. Administrators can also use this function to import all their current settings if they wish to extend their licencing and create another incidence of Halcyon on replacement or additional IBM i hardware in the future.
Pricing and Availability
Systems Operations Suite v4.0 is available immediately. Product pricing is tiered and based on IBM processor groups. Current customers can upgrade free of charge. In addition, Halcyon have published a fair pricing policy so that if customers increase the Commercial Processing Workload (CPW) rating of their IBM hardware they will not incur software upgrade fees giving long term reassurance on costs.
For more information about Systems Operations Suite v4.0 visit: http://www.halcyonsoftware.com/sos
To download the new "smart app" for managing IBM i and other IT environments using smart phones and tablet devices visit:
http://www.halcyonsoftware.com/apps
For technical advice on business application monitoring, Halcyon has created "A Guide to Templates" covering all the major ERP packages and HA solutions. A free copy can be requested by emailing: [email protected]
About Halcyon Software
Halcyon Software is a global leader in multi-platform systems management software. With more than 20 years of delivering proven solutions and first class customer support, Halcyon's products proactively monitor, manage and automate IT operations to significantly reduce costs. Large IT outsourcing companies as well as small to medium sized corporate and public sector data centers rely on Halcyon Software to ensure their mission-critical systems, core applications and services are available 24/7.
Halcyon's solutions support IBM® enterprise class systems, including the IBM i®, AIX® as well as Windows® and Linux® platforms.
Halcyon has regional offices in the USA, UK and Australia, and a worldwide network of partners and distributors supporting the Americas, EMEA, and Asia Pac territories.
###