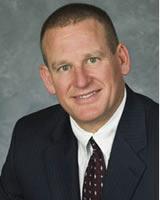 My client was dramatically injured in this case, and I think that affected the settlements.
Columbia, MO (PRWEB) May 08, 2012
Columbia injury attorney Matthew Woods recently earned a $5.25 million settlement for his client, Nicholas Hanson, who was injured in a sport utility vehicle accident in Quincy, IL.
According to court documents, in the accident, the vehicle in which Hanson was a passenger crossed over the center line, and resulted in Hanson's paraplegia after he suffered severe back, spine, and shoulder injuries. The vehicle was traveling northbound on County Highway 15 when the driver, Taussa Roney, crossed the center line and collided with a city bus. Roney, as well bus driver Becky Dawson and the city of Quincy, were listed as defendants.
The case, number 10-L-16, was brought before Illinois' Adams County Circuit Court in February.
The settlement included $4 million from the city of Quincy, $1.1 million in underinsurance, $100,000 in uninsurance, and $50,000 from Roney. All but one of the payments reflected the insurance companies' policy limits.
Attorney Woods estimated that his client incurred $991,000 in medical expenses, as well as an additional $1.7 million in future lost wages and $6-9 million in future medical costs.
"My client was dramatically injured in this case, and I think that affected the settlements," Woods stated.
About the Firm
The law firm of Eng & Woods provides knowledgeable and experienced legal assistance for clients throughout Missouri and surrounding states. In addition to personal injury law, Eng & Woods also provide assistance in the areas of criminal defense, workers compensation, and family law.
Founded in 1953, the Columbia attorneys at Eng & Woods have been providing high-quality, efficient legal services to clients for nearly 60 years. For more information about the firm and how they can help you, please visit http://www.engandwoods.com or call 877-888-2345.