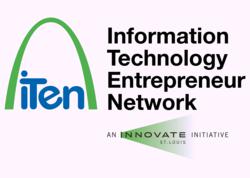 We have the resources and experience to guide an entrepreneur from the very earliest stage of company inception all the way through the process of growing a company.
St. Louis, MO (PRWEB) May 04, 2012
The Information Technology Entrepreneur Network (ITEN) is hosting the Start-Up Connection, the region's premier trade show and networking event for early-stage technology companies. The event will be held 3:30pm-6:30pm, May 8, 2012 at the T-REx facility, 615 Olive, 12th floor downtown.
Start-up Connection offers an excellent opportunity to meet other entrepreneurs and find out what technology ventures are taking off in St. Louis. Register online now to participate.
ITEN also is announcing two new programs to its already successful curricula, Concept Development and Growth Acceleration Program. The Concept Development Program is designed to bring along very early stage companies or entrepreneurs, while the Growth Acceleration Program focuses on helping companies grow after they have received funding.
"These two new additions round out our programming for entrepreneurs and start-up companies," said Jim Brasunas, Executive Director of ITEN. "We have the resources and experience to guide an entrepreneur from the very earliest stage of company inception all the way through the process of growing a company."
A Complete Program
The Concept Development program is the new initial step in ITEN's development process for entrepreneurs. It is ideal for the entrepreneur at the earliest stage of creating a startup. All a participant needs at this step is an idea. The course pairs the entrepreneur with an advisor to flesh out an initial idea with one-on-one attention. The advisor helps pinpoint exactly what the problem is, brainstorms concept ideas, and prepares the entrepreneur for Business Model Validation, the next step in the process.
Business Model Validation pairs an entrepreneur with four experienced mentors. The course helps identify the problem, solution, and customer that the business would target. It then takes the process a step further to help the entrepreneur create a revenue model and an agile development model.
When a business model is validated, the entrepreneur moves onto ITEN's Mock Angel program, the "tough love" part of the process. Potential investors listen to entrepreneurs practice their pitch and provide constructive criticism, explaining why they would or would not invest in the business. After additional mentoring, a second presentation is scheduled and the group then decides if the business is ready to graduate from the program. ITEN's Mock Angel Program has a very high success rate with nearly 80% of graduates finding investors.
The second new stage added to the curricula is a follow-up stage, the Growth Acceleration Program. This stage takes the entrepreneurs that have successfully found investors and helps them with the building blocks of forming a business. Each growth acceleration venture is paired with one key mentor to help them manage rapid growth and connected with premier service providers, sources of talent, PR, additional investors, and fortune 1000 executives.
About ITEN
The IT Entrepreneur Network (ITEN) is an initiative of the St. Louis IT Coalition and Innovate St. Louis 501(c)3 not for profit corporation started in April of 2008. As a catalyst of IT ecosystem, ITEN provides unique programs, events, and access to resources that accelerate tech venture success.
Currently, ITEN serves over 220 start-up ventures and involves over 120 volunteer mentors. ITEN's programs form a venture roadmap from concept through design, prototype, launch, revenue, funding and rapid scaling. Guidance from serial entrepreneurs, subject matter experts and important community influencers helps entrepreneurs focus on essential critical tasks and avoid wasted efforts. Access to investors, key service providers and qualified talent means lower barriers to rapid growth. Designed by entrepreneurs for entrepreneurs, requiring neither payment nor equity, ITEN is a unique community asset and a proven route to venture success.
# # #
For more information, contact:
Jing Stiffler, ITEN
314-783-6395, jstiffler(at)itenstl(dot)org
Or
Brian Posnanski, TrafficPRM
314-968-7712, brian(at)traffic-prm(dot)com