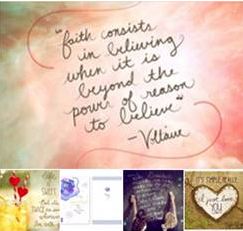 Cleveland, OH (PRWEB) May 04, 2012
American Greetings Corporation (NYSE: AM) has recently expanded its social sharing network with the launch of an official Pinterest page. The new American Greetings Pinterest page features the most popular ecards on AmericanGreetings.com and the wide variety of exciting paper card assortments available at retailers nationwide, as well as celebration ideas, beautiful artwork, captivating photography, meaningful quotes, and much more.
For those who have not yet taken an interest in Pinterest, the social sharing platform is akin to a virtual online pinboard where users can post and review content from the web reflecting all of their passions and interests. "Pinners" can browse boards created by family and friends as well as sharing their own inspirations. This unique opportunity to share and interact with others based on a wide range of interests makes the Pinterest experience unlike any other social community.
"We're very excited to be able to connect with consumers through our new Pinterest page," says Sheryl Cohen, Brand Manager at American Greetings Interactive. "The concept of connecting through meaningful words and visuals is uniquely aligned with the products and services we offer, and Pinterest is a great way for us to share even more of the creative inspirations that drive us every day."
Care Bears™, Strawberry Shortcake™ and Holly Hobbie™ fans can also find pins of all of their favorite American Greetings Properties characters on the American Greetings Pinterest page.
To check out the American Greetings Pinterest page, visit http://pinterest.com/amgreetings/
About American Greetings Corporation
For more than 100 years, American Greetings Corporation (NYSE: AM) has been a creator and manufacturer of innovative social expression products that assist consumers in enhancing their relationships to create happiness, laughter and love. The Company's major greeting card lines are American Greetings, Carlton Cards, Gibson, Recycled Paper Greetings and Papyrus, and other paper product offerings include DesignWare party goods and American Greetings and Plus Mark gift-wrap and boxed cards. American Greetings also has one of the largest collections of greetings on the Web, including greeting cards available at Cardstore.com and electronic greeting cards available at AmericanGreetings.com. In addition to its product lines, American Greetings also creates and licenses popular character brands through the American Greetings Properties group. Headquartered in Cleveland, Ohio, American Greetings generates annual revenue of approximately $1.6 billion, and its products can be found in retail outlets worldwide. For more information on the Company, visit http://corporate.americangreetings.com.