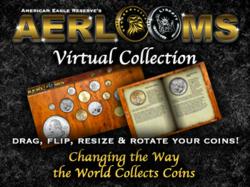 ...takes you to a place where your collection is just as exciting as it was when you started out with that first coin and just couldn't take your eyes off of it
Port Arthur, Texas (PRWEB) May 07, 2012
The American Eagle Reserve launched its highly anticipated interactive AERLOOMS Virtual Collection system that caters directly to the needs and wants of coin collectors and is certainly poised to upend the coin and bullion industry.
"Often times coin collectors tend to lock away their collections, whether it be in a safe or in a safety deposit box, as a way to protect these historic treasures from the elements and theft. This is especially true when collections grow to become very valuable and it can make it quite difficult to enjoy their passion of coin collecting. We've solved this very problem and truly believe it will change the world of coin collecting," said Kirk Martin, Founder and CEO of The American Eagle Reserve.
The AERLOOMS Virtual Collection allows collectors to admire their coins on realistic virtual desktops and within virtual leather-bound portfolios. Customers can interactively use their mouse to literally drag, flip and rotate their coins as if they were on the table in front of them and flip through the pages of their own custom portfolios.
"We wanted to create a truly unique virtual atmosphere that would allow our customers to view and interact with their collections in a way that had never been done before," said Christi Armstrong, The American Eagle Reserve's Programmer. "The AERLOOMS Virtual Collection really takes you to a place where your collection is just as exciting as it was when you started out with that first coin and just couldn't take your eyes off of it."
Coins and bullion are added to individual Virtual Collections as they are ordered, allowing customers to interact with their own growing collections at any time from within the comfort and safety of their own homes or literally anywhere they have access to the internet.
To learn more, contact The American Eagle Reserve at 877-227-COIN (877-227-2646). To try out the AERLOOMS Virtual Collection demo, visit: http://www.AERLOOMS.com/virtual-collection.php.
The American Eagle Reserve holds an A+ rating with the Better Business Bureau and is an authorized member of the American Numismatic Association and the Certified Coin Exchange as well as an Authorized Dealer of the Professional Coin Grading Service.