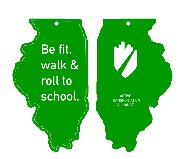 Newburgh, NY (PRWEB) May 08, 2012
Reflective zipper tags clip on any zipper pull on jackets, back packs, pockets, purses, book bags and luggage, anything that has a zipper. It makes the zipper easier to use, and as a reflector, it is visible not only during daylight hours, but at dusk, dawn and in the dark. Reflector tags make the wearer visible up to 500 feet away from vehicle headlights, providing a driver plenty of time to avoid a pedestrian or cyclist.
NHTSA (National Highway Transportation Safety Agency) claims 69% of all pedestrian and cyclist accidents occur in the dark, but even the smallest reflector tag can make a person dressed completely in black or a dark color more visible than a person dressed completely in white.
The Reflectory, 89 Broadway, Newburgh, NY, 12550, founded over 40 years ago, has been making and distributing reflective products and materials for both industrial use and safety education programs since its inception. It is a supplier to the Safe Kids Worldwide organization and the federally funded Safe Routes To School programs, and offers the ability to create and manufacture custom shaped reflectors in a variety of reflective colors.
In addition to the Illinois State shape, The Reflectory has produced reflective tags for organizations in Arizona, California, Colorado, Georgia, Minnesota, Mississippi, Missouri, Nebraska, Nevada, New Hampshire, New York, Ohio, Oregon, South Dakota, Texas and Utah.
Each custom made tag is provided in a clear pouch, with an instruction sheet for use, and the zipper clip to attach the reflector tag to zipper pulls. Minimum orders of 1000 tags cost $1.25 each, with larger volume orders available at lower prices, as low as $.65 each for 100,000 tags.