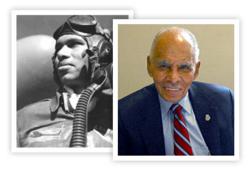 This is a unique opportunity for young people to learn from the experiences of a true American hero.
Garden City, New York (PRWEB) May 08, 2012
"When World War II started, the black press and the black community wanted blacks to be able to fly because in 1925, the military had done a study that said that blacks didn't have the intelligence, ability, or coordination to fly airplanes. The pressure from the NAACP and the [black] press caused them to start an experimental group that was to be trained in Tuskegee, Alabama, and that's why we were known as 'The Tuskegee Airmen.' They went to colleges and recruited the best leaders and athletes," says Dr. Roscoe Brown, one of the Tuskegee airmen whose heroism led to the integration of the armed forces and opened many doors to African Americans.
On June 12th at 3:00pm at the Garden City Hotel, ERASE Racism will sponsor a Youth Roundtable with Dr. Brown. A diverse group of Long Island high school students will talk with Dr. Brown about his extraordinary experiences as a Tuskegee Airman and as a pioneer in the civil rights movement. The participants will watch a one hour documentary, Double Victory, about the challenges faced by the Tuskegee Airmen, especially the racism that they encountered while protecting their country. Dr. Brown will speak for a few minutes about the role of race in America and then he will take questions from students.
This is a unique opportunity for young people to learn from the experiences of a true American hero. It will be the second Youth Roundtable sponsored by ERASE Racism. The first one, held in 2010, was with Ambassador Andrew Young, former United States Congressman and leader in the Civil Rights Movement. Over 200 students attended the forum, which marked Ambassador Young's first public event on Long Island since his visit with Dr. Martin Luther King, Jr. in the 1960s. This year's Youth Roundtable with Dr. Brown promises to be another extraordinary event.
If you know students who would like to participate please contact Olivia Ildefonso at Olivia(at)eraseracismny(dot)org or call 516-921-4863.
ERASE Racism is a regional organization that leads public policy advocacy campaigns and related initiatives to promote racial equity in areas, such as housing, community development, public school education and public health.