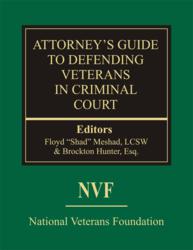 May [this book] be used by all in service to those who have given so much to our great nation. Max Cleland, Silver Star, Bronze Star, Soldier's Medal, former Administrator of the United States Veterans Affairs
Los Angles, CA (PRWEB) May 06, 2012
The National Veterans Foundation is preparing to launch The Attorneys' Guide to Defending Veterans in Criminal Court in June. This 700+ page publication will provide attorneys, judges, expert witnesses, and others who work with veterans, the very cutting-edge in understanding the nature of combat stress, its ties to criminal behavior, and how we can avoid repeating mistakes made with past generations of returning war veterans. The book will include contributions from leading experts in the fields of law, history, medicine, mental health, and social work in order to provide comprehensive coverage.
More than 2 million Americans have now served in Iraq or Afghanistan. A 2008 RAND Corporation study found that, of the 1.7 million who had served in the war zones at that time, more than 300,000 were suffering from Post-Traumatic Stress Disorder ("PTSD"), and another 320,000 from Traumatic Brain Injury ("TBI"). Only about half of these troops, it found, had reported or sought help for their condition. Untreated, many of these psychologically-injured veterans are acting out in reckless, self-destructive and, sometimes, violent ways that bring them into contact with the criminal justice system.
History tells us that as the wars in Iraq and Afghanistan wind down, the numbers of troubled veterans flooding into our criminal courts will swell. Emerging research reveals a pattern of traumatized combat veterans surfacing in the criminal justice system following every major American conflict. Unfortunately, veterans of past conflicts were often treated quite harshly when their psychological injuries led them into criminal behavior.
This was particularly true in the wake of Vietnam when hundreds of thousands of psychologically-injured veterans returned home to a largely hostile American public who had come to blame them for an unpopular war. These veterans were often stigmatized and literally discarded when their psychological injuries led them to criminal behavior.
Even now, more than 30 years after that war,hundreds of thousands of Vietnam veterans remain incarcerated, homeless, and/or chemically-addicted across America. Our society has paid a staggering price for our abandonment of the Vietnam generation. The side-effects of their untreated trauma have cost us in many unforeseen ways. Countless families have been destroyed, jobs lost, and taxpayer dollars spent on treatment that came too late to make a difference for many. Only in recent years, have we begun to awaken to the tragic long-term consequences of the Vietnam generation's abandonment and to embrace them with long-overdue recognition of their sacrifices.
Though we now support our troops, the current generation of returning veterans faces other challenges. Unlike the most Vietnam veterans, many Iraq and Afghan veterans have served multiple combat tours, compounding the physical and mental health problems related to their service. Also unique to this generation is the prevalent use of antidepressants and other psychotropic medicines to keep our warriors combat-effective during these multiple deployments, creating additional difficulties in readjusting to civil society. Also new to these wars is the prevalence of Traumatic Brain Injuries, caused by the widespread use of improvised explosive devices.
The American criminal court system has already begun to prepare for the aftermath of the wars in Iraq and Afghanistan. Veterans Treatment Courts are cropping up in nearly every state, veteran sentencing mitigation statutes are being enacted, and post-traumatic stress is increasingly being recognized as a basis for the insanity defense in certain, more extreme, cases. Much more needs to be done, however, to educate the justice system and make the changes necessary to be ready when the wave of troubled veterans hits.
The Attorneys' Guide to Defending Veterans in Criminal Court is intended to be the tool to instruct attorneys in all aspects of representing veterans facing criminal charges. From establishing an effective attorney-client relationship, accessing treatment and documenting military service – to pre-trial negotiation, trial and sentencing, this Guide will be the very first of its kind publication to fully address the criminal justice needs of our veterans. This is not intended as a "get-out-of-jail-free card," but a tool for use providing the best in defense for veterans facing criminal charges, and providing assistance during the sentencing phase, in order to see that treatment is always given serious consideration. Prosecuting attorneys, along with judges and expert witnesses, will also find the publication an invaluable guide in understanding the critical nature of their role.
The Guide goes well beyond purely legal topics, covering a wide range of relevant subjects, including the historical context of combat stress, sociological trends following wars, the current science and treatment of disorders common in troubled veterans, and understanding military's unique culture. The table of contents of the Guide shows, both, the depth and breadth of this one-of-a-kind publication.
Actor and long-time veterans advocate, Martin Sheen, offers his support for the book: "The Attorneys Guide to Defending Veterans in Criminal Court is a vital resource to serve the growing number of returning veterans who face charges stemming from service-related substance abuse to mental health issues. By using the criminal justice system as an intervention tool, we can connect our veterans to the treatment they earned through military service and ensure they do not fall through the cracks into chronic incarceration and homelessness."
The National Veterans Foundation wants all returning veterans to have the best legal representation possible. To this end, the Guide will be the NVF's legacy to veterans of all wars.
Co-editors and contributing authors, Floyd "Shad" Meshad, founder and President of the National Veterans Foundation and 2012 recipient of the IAVA's Fourth Annual Heroes award, and Brock Hunter, attorney and veteran, stand ready to conduct interviews on the substance of the publication. Please use the contact information to arrange an interview.