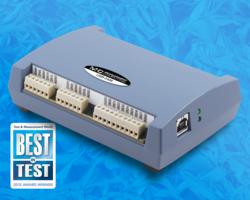 New Hampshire (PRWEB) May 04, 2012
MicroDAQ.com, the largest online provider of Data Loggers and Data Acquisition products in the world, has added the award winning 24-Bit USB DAQ device from Measurement Computing to its product line.
The USB-2408 series was awarded the prestigious "Best in Test" award from Test and Measurement World Magazine for 2012. The USB-2408 will accept up to 16 voltage or 8 Thermocouple inputs and samples up to 1000 times per second. This powerful data acquisition module also features a 24-Bit ADC for superior accuracy and noise performance.
A wide range of software options are included with the USB-2408 series. Each logger ships with MCC's TracerDAQ™ software as well as comprehensive support for Visual Studio® and Visual Studio® .NET, DASYLab®, NI LabVIEW™, and MATLAB®. Also included is Measurement Computing's DAQFlex open-source software framework which provides support for Windows®, Linux®, and Mac® operating systems.
Available now for only $599, the Measurement Computing USB-2408 is an exceptional value for a 24-Bit multi-channel DAQ device. Click here to view the complete specification on the MicroDAQ.com website or call 603-746-5524 today and speak to one of our application engineers.
About MicroDAQ.com, Ltd. – MicroDAQ.com is an innovative provider of compact, portable data logging devices and accessories for advanced data acquisition, communications and analysis. Offering thousands of products from over 30 manufacturers, MicroDAQ services customers all over the world through its award-winning online web site at http://www.MicroDaq.com
About Measurement Computing – Measurement Computing is the market leader in the design, manufacture, and distribution of value-priced data acquisition hardware, and test and measurement software solutions for both programmers and non-programmers. More information about Measurement Computing is available on the Web at http://www.mccdaq.com.