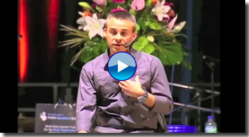 London, UK (PRWEB UK) 6 May 2012
Top professionals regard being an excellent public speaker as a key skill when it comes to both increasing business and being identified as an industry expert. At these two unique training events in South Africa, Andy Harrington's students will learn how to raise their profile, position themselves as experts in their company or industry, and ultimately, learn the skills necessary to grow their business and their income. Andy Harrington will also be donating £5000 from the sales of the this event to The Knowledge to Action Foundation, a charity working to improve the lives in disadvantaged children around the world.
Andy Harrington is also one of the worlds leading keynote presenters, and has spoken at prestigious venues such as the London's O2 Arena to audiences of over six and a half thousand people. He has shared the stage with such greats as Anthony Robbins, Sir Richard Branson, T. Harv Ecker and Lord Alan Sugar. Since creating his "Master Speakers Academy" course, Andy Harrington has made it his duty to teach public speaking skills and fail safe secrets to those looking to progress in their career and industry.
On the 15h May 2012 in Johannesburg, South Africa and on the 17th May 2012 in Cape Town, South Africa, Andy Harrington will be teaching 1600 people the essential secrets to master the incredibly daunting skill of public speaking. Being able to lead an audience and speak confidently in public is one of the key attributes to running a successful business in the 21st century
"Those that have the best public speaking skills will be seen as the key people of influence in their industry"
Andy Harrington believes that "being an outstanding public speaker is not some 'gift' that a just a 'lucky few' people are born with … with the right guidance, anyone can master this skill." Shaun Greenbank, the CEO of Tax Wizards recently attended one of Andy Harrington's previous public speaking courses and said, "Before Andy's speaker training I wasn't able to even ask a question from the audience; so now to get to the point where I can stand on stage and present confidently with passion is beyond my wildest dreams."
Simon Coulson of The Internet Business School says "I joined Andy Harrington's Public Speakers Academy just before a big meeting I had planned and as a result from that one meeting I pulled in £468,000 in sales"
For this public speaking training event Andy Harrington has partnered with Greg Secker, the founder of The Knowledge to Action Foundation, a not for profit organization who's mission is to positively improve the lives of children all over the world. The Knowledge to Action Foundation focuses on education, youth leadership initiatives and life skills, which provides disadvantaged children with the necessary tools to reach their full potential. With the help of a £5000 donation from the sales of Andy Harrington's public speaking training course, the Foundation is teaming up with Sir Richard Branson's Virgin Unite charity to build a new crèche in a rural South African village just outside Ulusaba.
Professionals who are interested in improving their public speaking skills to progress their career, visit Andy Harrington's website http://www.andyharrington.co.uk To book a place on the Master Speakers Intensive in South Africa on the 15th or 17th of May visit http://www.knowledgetoaction.co.za/master-speakers-intensive/
To find out more how The Knowledge to Action Foundation improves the lives of children around the world, or donate to the charity, visit their website http://www.gregsecker.co.uk/foundation.php.