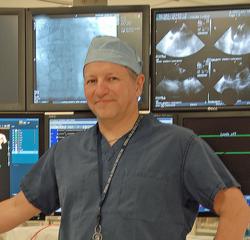 We've demonstrated a decrease of x-ray exposure of ~90 to 100% for Ablations using advanced 3D Mapping with minimal (X-Ray) fluoroscopic technique. The reduction in radiation exposure is invaluable because the effects of x-ray exposure are cumulative.
Scottsdale, Arizona (PRWEB) May 06, 2012
When Dr. Renzo Cataldo, a cardiac electrophysiologist (EP) with Arizona Arrhythmia Consultants, one of the premier cardiac electrophysiology groups in Arizona met with a new patient, he was positive he could help him with an advanced AF catheter ablation procedure with excellent results.
Jim had been diagnosed with paroxysmal atrial fibrillation, a condition that caused his heart to race suddenly then slow unpredictably.
"The fast palpitations caused Jim to feel a pounding sensation in his chest that was caused by atrial fibrillation. This condition is a common type of arrhythmia that involves the upper chambers of the heart (atria) beating in chaos. The atria fibrillate or quiver instead of contracting in a coordinated fashion and it affects over two million people, especially those over the age of sixty."
"When I met with Jim, he no prior history of cardiac problems," Dr. Cataldo added. "And that's quite common because atrial fibrillation can strike without warning."
"At first I had no idea what was happening to me," Jim reported. "I became sweaty, dizzy and nauseous and I went to the Emergency Room because my heart was pounding fast."
After numerous visits within a six-week period to the emergency room, Jim became terrified of his fast heartbeats.
"I was cardioverted three times," Jim continued. "They used an energy jolt to my heart to make it beat normally. It worked each time so I was sent home, but the atrial fibrillation kept coming back. The more I had it, the less I was able to cope with the condition mentally or physically. All I knew was I had to find a way to stop it so I could get my life back and function normally. On the sixth visit, I agreed to stay in the hospital to try a medical regimen to see if that could control it."
After days in the hospital, Jim was unable to tolerate the various medications while still experiencing palpitations and he became desperate to find a real solution to his cardiac condition.
"I wasn't ready to accept that this was the best it could get. I found myself taking my pulse all the time," Jim said. "I went from being an active forty something to a couch potato and I felt out of control."
During his first consultation with Dr Renzo Cataldo, a well-known clinical cardiac electrophysiologist in Scottsdale, Arizona, who specializes in the treatment and cure of atrial fibrillation, Jim was excited to find out that he was a perfect candidate for a procedure called an atrial fibrillation (Afib) ablation.
An Afib Ablation is a minimally invasive procedure, where soft thin coated wires (catheters) are placed in various positions in the heart that send and receive electrical signals. Manipulation of the catheters is guided by x-ray (fluoroscopy), complex mapping systems and sometimes ultrasound guidance as well. Radiofrequency energy, similar to cautery is used to create tiny electrical burns to the triggers in the atria with meticulous precision. The objective is to eliminate the irregular heartbeat that research has shown typically originates from the four pulmonary veins and the treatment strategy has been very successful with paroxysmal atrial fibrillation.
After researching the procedure on the internet, Jim learned that an atrial fibrillation (Afib) ablation could take more than four hours and he became concerned about the radiation because he had various scans and x-rays over the years and knew that more radiation exposure wasn't good.
"On my first visit with Dr. Cataldo, I learned that the doctor was one of the few physicians in the country that used a technique that required little or no fluoroscopy (radiation) exposure. So I decided to go for it!"
New and very advanced three-dimensional mapping systems using a system similar to a GPS creates a much improved 3D model of the patient's own heart.
In the state of Arizona, Dr. Cataldo is one of the few cardiac electrophysiologists that have fully adopted the technique of utilizing non-fluoroscopic electro-anatomical navigation with a 3 D mapping system guided by intracardiac echocardiography (ICE) and he has performed well over a hundred of these ablations with minimal radiation with great success.
" With this procedure we've demonstrated a decrease of x-ray exposure of ~90 to 100%," Dr. Cataldo said. "Atrial fibrillation ablation procedures are significantly longer than other ablations and the reduction in radiation exposure is invaluable to both the patient and the medical staff because the long term effects of x-ray exposure are cumulative."
According to the American Heart Association, people with atrial fibrillation have five times the risk of having a stroke compared to people without atrial fibrillation and it accounts for up to thirty percent of hospital admissions for arrhythmia disturbances nationwide.
"Overall, it was a great experience," Jim commented. "After the out patient procedure, my racing heart was gone."
Since his procedure, Jim hasn't had one single episode of dizziness or symptoms from atrial fibrillation.
Today he's back at work as a technical instructor for a large software company in Arizona and he is one of their primary health advocate champions.
"Thanks to Dr. Cataldo, I feel like my old self again and I have the confidence to live a full and active life. For me it was the perfect cure."
Dr Renzo Cataldo, originally from Brooklyn, New York, has been practicing clinical cardiac electrophysiology in Arizona since 2001. He is a partner at Arizona Arrhythmia Consultants in Scottsdale, Arizona, and specializes in the diagnosis and treatment of Atrial Fibrillation and other complex rhythm problems that do not respond to conventional treatment. He is board certified in Cardiovascular Diseases and Clinical Cardiac Electrophysiology and is active in the study of new techniques and technologies.
ARIZONA ARRHYTHMIA CONSULTANTS has a reputation of excellence in delivering the highest quality comprehensive cardiac electrophysiology care. As the premiere Cardiac Electrophysiology (EP) practice in Arizona, AAC physicians are on the forefront of EP technologies and clinical research nationwide focused on heart arrhythmias. They are regarded as the leading authority and innovators throughout the state of Arizona in the research and practice of Clinical Electrophysiology.
http://www.NoXrayAblation.com http://www.AACHeart.com