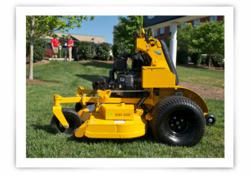 Our team puts their heart and soul into everything they do here until the products come out amazing.
Frederick, MD (PRWEB) May 08, 2012
Revolutionary commercial lawn mower company Wright Manufacturing Inc. just announced the launch of their new website specifically designed to help their professional landscaping clients identify opportunities for better business performance and identify the return on investment of higher quality equipment. The industry leaders known for diverse commercial mowers that offer superior performance and unmatched quality never stop asking how they can continually forge ahead as pioneers in their industry, all while putting a heavy emphasis on customer and dealer relations.
With dealers across the country, Wright has always been committed to selling the best engineered mowers in the industry. They have established the Wright name as one that assures improved productivity and increased profitability for lawn management entrepreneurs.
"The way we at Wright Manufacturing constantly improve our products is we take these three things," President and CEO Bill Wright said. "The first one is our knowledge of the ground – the grass – where it happens. We take our knowledge of mechanical things and then our knowledge and expertise in manufacturing. We take those three things and combine them with a relentless pursuit of constant improvement. Day after day we're constantly improving our products."
Now, the company is taking that commitment a step further with an e-book designed to support and enrich their clients with a wealth of information on the essentials of owning and operating a successful mowing or landscaping enterprise.
With more than 30 years of experience in the industry, the highly skilled professionals at Wright are taking their cumulative knowledge and pouring it into those who use and trust their unmatched brand. The free e-book is available when you request a free Wright mower demonstration. The e-book offers advice and tips on how to generate leads, how to accurately charge for different landscaping projects, how to finance lawn equipment, and much more.
Accompanying the e-book, Wright is also rolling out a series of videos to further support their loyal dealers and lawn management industry professionals. The videos cover a wide swath of informative subjects like staying on schedule, selecting a commercial mower dealer, starting a lawn mowing business and maintaining a service attitude.
Wright is also offering a seasonal buying discount to anyone who books a free mower demonstration at a local Wright dealership. More information is available on their new website, where professionals can sign up for the demonstration to receive the exclusive discount.
With every mower built entirely in the USA, Wright Manufacturing provides the best engineered products in the industry coupled with an unmatched commitment to relationships. Wright operates on the belief that better longevity plus superior performance will result in increased profits for those who use their products. With the speed and productivity of a Wright mower, operators can expect to earn $4,000 more per year. And that's simply the Wright way. Bill Wright and his team are dedicated to empowering those who care for the landscape of this country, and they never stop improving.
"The thing that makes me most proud about Wright Manufacturing is to see what has happened over the years with this team," Wright said. "The team has grown, the people have gotten extremely good at what they do, and they put their heart and soul into everything they do here until the products come out amazing. Those products allow everyone else to be successful."
About Wright Manufacturing Inc.
Wright Manufacturing first launched in 1981 under the name "Lawn-Wright." The dream of entrepreneur Bill Wright, a mechanical mind with an interest in mowing, the company has grown explosively over the past 30 years, introducing the first lawn mower that allowed operators to stand in the mid-'90s, thus revolutionizing the lawn care industry. Every Wright mower is built with quality craftsmanship and superior design. As caretakers of the American landscape, Wright builds all their mowers in the USA, putting superior design and craftsmanship into every piece of equipment that rolls off the line.
Please visit http://WrightCommercialMowers.com or call toll-free at (855) 421-3785 for more information about Wright mowers.