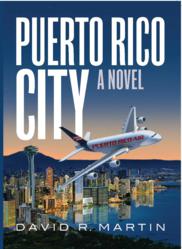 Puerto Ricans would finally parlay their expertise in arts, entertainment and sports to create the place where everyone ultimately wants to be and be seen.
Atlanta, GA (PRWEB) May 06, 2012
Puerto Rico City, a new novel by David R. Martin, proposes the creation of a mega-entertainment city on the east coast of Puerto Rico. The closure of the 13-square-mile U.S. Naval Station Roosevelt Roads in 2004 presents this historic economic development opportunity. The book's main character, Lino Mendoza, seizes upon the idea to end the political stagnation and economic descent of the U.S. island territory. But forces of globalization, personified by a cast of international business predators and politicians, seek to derail the effort to lift Puerto Rico to international stature.
There will be no second chance to build Puerto Rico City, a city to eclipse Las Vegas, Macau and Dubai, where Puerto Rico's natural talents in entertainment, music, sports and the arts can find a world class showcase. In a race against time and political upheaval, Lino must bring about the improbable.
The novel straddles the 2008 global financial crisis and projects beyond the 2012 U.S. and island elections. The story also highlights the conflict of Puerto Rico's ambiguous political relationship with the U.S. and its distinct historical and cultural identity.
The author, David R. Martin, was born in Toledo, Ohio. After attending high school and playing football in Puerto Rico and Connecticut, he graduated from Amherst College in Massachusetts, where he studied literature, history and economics. For more about the novel and the author, please visit: http://www.puertoricocity.com