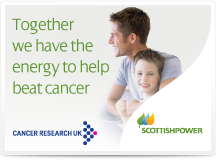 (PRWEB UK) 8 May 2012
Employees and customers at ScottishPower have raised a quarter of a million pounds for Cancer Research UK in just over two months, following the energy company's announcement in February that the cancer charity would be one of its first ever principal charity partners.
http://www.scottishpower.co.uk/
As well as raising much needed funds towards life-saving research which could help more people survive cancer in the future, the relationship will also see ScottishPower working closely with Cancer Research UK to share healthy living messages with their customers and employees to help reduce the risk of cancer.
ScottishPower is also the Official Energy Sponsor for Race for Life, and more than 400 employees have signed up to take part in the event so far. Race for Life is the largest women-only fundraising event in the UK. Since 1994, women of all ages and fitness levels across the UK have come together at events to walk, jog or run to help beat cancer.
Thousands of customers have also been signing up to the 'Help Beat Cancer Discounted energy January 2015' product, which was launched in February. The product gives customers a guaranteed discount of 3% below ScottishPower's standard monthly Direct Debit prices until 31st December 2014. ScottishPower donates £15 to Cancer Research UK* for every customer who signs up, and a further £10 for every year that the customer stays on the product.
Neil Clitheroe, ScottishPower's CEO of energy retail (http://www.scottishpower.co.uk/your-business/small-business/business-home.aspx) and Generation, said "We are proud to be supporting Cancer Research UK, and we are delighted by the response of our customers and staff in helping to raise funds for this excellent cause. More than one in three people will develop some form of cancer in their lifetime and we want to help Cancer Research UK to continue developing new ways to prevent, diagnose and treat cancer.
"As well as aiming to raise over £5 million in three years, we also want to help communicate information to customers and employees to create greater awareness of cancer and steps towards prevention. Studies from Cancer Research UK have shown that 4 in 10 cancers are preventable, so if we can help in any way by sharing their information and messages, then we are happy to do so."
Jools Tait, Director of Partnerships at Cancer Research UK, said: "We are delighted that ScottishPower has chosen to support Cancer Research UK. This is the first partnership of its type and it has already raised an amazing £250,000 in its first two months, so we are extremely optimistic that it will continue to go from strength to strength over the next three years.
"Working with and supporting ScottishPower's employees and customers to raise awareness of the importance of a healthy lifestyle is central to the partnership, and we will be working closely together to share our knowledge in this area, to offer information and advice about how a healthy lifestyle can help in cancer prevention."
*Cancer Research UK Trading Limited which gives its taxable profits to Cancer Research UK.
For further information about Cancer Research UK's work or to find out how to support the charity, please call 020 3469 8300 or visit http://www.cancerresearchuk.org.