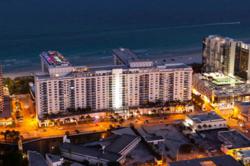 "We have a great lineup of speakers and want attendees to be able to network with them as well as with each other. Our goal with this conference is to share and discuss ideas that will move the entire digital marketing industry forward."- Gary Henderson
Myrtle Beach, SC (PRWEB) May 04, 2012
Interactivity Digital, a digital marketing conference to be held in South Beach, FL on May 15-16, 2013, has announced its venue.
The conference, hosted by rapidly-growing Myrtle Beach-based digital marketing agency Interactivity Marketing, will be held at The Perry in South Beach, Florida. One of the most stunning hotels in a location full of outstanding properties, The Perry exudes South Beach style and swank. Set directly on the beach in the heart of South Beach, The Perry offers guests an 18 story-tall rooftop pool and lounge overlooking the ocean, access to the modernly-equipped David Barton Gym and Spa, the largest private beach club in Miami, and sleek, modern, and comfortable rooms.
Interactivity Digital will cover many topics related to digital marketing including search engine optimization, pay-per-click marketing, social media, email marketing, conversion rate optimization, content marketing, and analytics. The event will be an intimate one, with only 125 tickets being sold.
Said Interactivity Marketing President Gary Henderson, "We want to keep Interactivity Digital as exclusive and intimate as possible. We have a great lineup of speakers and want attendees to be able to network with them as well as with each other. Our goal with this conference is to share and discuss ideas that will move the entire digital marketing industry forward."
Tickets for Interactivity Digital are on sale now. Until June 1st, 2012, individuals interested in attending will receive a $100 discount on their ticket. Tickets include access to all conference sessions, meals and snacks for both days, and two open-bar VIP networking events.
Purchase your Interactivity Digital 2013 tickets here.
About Interactivity Marketing
Headquartered in Myrtle Beach, South Carolina, Interactivity Marketing is a fully-integrated digital advertising and marketing agency that provides branding, print, web design and development, search engine and social media marketing, and marketing strategy services to clients across the nation. Regarded as one of the fastest growing digital agencies in the southeast, Interactivity Marketing continues to win business and break new ground by implementing quantifiable, measurable, and innovative creative marketing solutions and strategies for its clients.