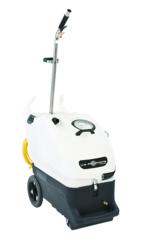 We really focused on ways to make the equipment easier to maneuver, climb stairs, transport, and control
Mukilteo, WA (PRWEB) May 04, 2012
U.S. Products, a leading manufacturer of carpet and floor cleaning equipment, announces it is introducing its all-new HydraPort™ heated hot-water extractor series today at the Connections Tradeshow to be held in Clearwater Beach, Florida, May 2 through May 5, 2012.
The HydraPort series is made up of five models, including one system designed for cleaning carpet as well as concrete, stone, and tile floors.
According to Mark Baxter, product manager for U.S. Products, the HydraPort series is the "culmination of a major engineering and design initiative within the company. It all started with direct input from cleaning technicians who use portable extraction equipment every day."
Along with emphasizing better performance and enhanced worker productivity, Baxter adds that a number of significant, patent pending redesigns were incorporated, including:

The solution tank filling site was relocated so that spills do not come in contact with any electrical components or switches. "[This is a] safety change that is long overdue with most portable extractors," says Baxter.
The recovery tank has been designed for faster and more complete emptying, "something else cleaning technicians will be happy to hear about."
All HydraPort models have a redesigned transport handle, side handle, front roller wheels, and oversized rubber grip rear wheels.
"Making the machine easier to transport and more ergonomic was a key concern," adds Baxter. "We really focused on ways to make the equipment easier to maneuver, climb stairs, transport, and control."
As with most U.S. Products extractors, all HydraPort systems have in-line heaters producing 212 degrees (F) at the wand tip.
This enhances cleaning power. Further, the machines also have a sealed vacuum system that muffles sound so they can be used in noise-sensitive settings.
"These machines are the result of hours and hours of interviews, thought, and planning," says Baxter. "We really believe they will be well received at the Connections show."
-end-
Visit us on Facebook at: http://www.facebook.com/usproductsequipment
About U.S. Products
U.S. Products is a leading manufacturer of carpet, upholstery, drapery, stone, concrete, & tile cleaning and restoration equipment, tools and chemicals for the floor care professional. In manufacturing, quality, reliability and innovation are words that are frequently advertised. At U.S. Products, we have the track record to demonstrate we have put them into action.