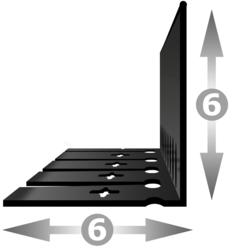 Villa Park, IL (PRWEB) May 07, 2012
Oly-Ola Edgings, Inc., the leading producer of US-made premium-grade commercial paver restraints and landscape edgings, introduces Teco-Edg™, an innovative 6-inch high L-shaped edge restraint with specially-engineered drainage slots for a truly "green" alternative. A versatile edging product, Teco-Edg™ is ideal for green roof systems, permeable pavements, grass pavers, vertical green walls, turf and rubber surfaces, modular planting systems and gravel pathway installations.
Constructed of heavy-duty 100% recycled PVC material, Teco-Edg™ is durable and easy-to-install, and available in rigid or flexible pieces. The sturdy, 6 x 6-inch, L-shaped profile of the restraint, designed with multi-purpose stake holes, makes it the ideal product for sustainable "green" landscaping applications.
Teco-Edg™ is safer and more economical to use than aluminum and steel edge restraints. The edging will also help buildings qualify for LEED points. For applications requiring a shorter height, Teco-Edg is also available in a 4 x 4-inch size; custom sizes also available.
For more information on Teco-Edg™ visit tecoedg.com. Teco-Edg™ is sold exclusively through landscape distribution centers, landscape contractors, independent nurseries and garden centers.
Oly-Ola Edgings, Inc was founded in 1978 and is headquartered in Villa Park, Illinois, USA. It is America's number one producer of the most complete line of polyethylene/vinyl edgings and paver restraints. Made with 100% recycled materials, Oly-Ola has 12 edging styles available.
For more information, please call or email Oly-Ola Edgings, Inc.,
124 E. St. Charles Road, Villa Park, IL 60181. Phone: 800.334.4647. Fax: 630.833.0816.
e-mail: edgings(at)olyola(dot)com website http://www.olyola.com